The Role of Popular Belief in Decision Making
January 8, 2011
We face an unimaginable number of decisions to make every day throughout our lives. From the time we wake up to the time we sleep, we choose the path we want to take in life. We live our lives the way we want to live them, and every decision we make is entirely up to us. That being said, it is possible to be influenced by others- like a piece of metal being attracted by a forceful magnet. However, we must be prudent in listening to others and going by popular belief.
In the novel Stargirl by Jerry Spinelli, a new student takes on the heat of being the "new girl". Instead of helping the new girl, all the students dismiss her different view of life. Instead of worrying about her popularity and wondering about how the other students looked at her, Stargirl was a nonconformist who had no ego. The reason most people saw her unfavorably was because the most popular girl in school despised Stargirl. Therefore, the kids followed her and took the popular action by treating Stargirl unfairly. From this novel, readers learn that what is right is not always popular, and what is popular is not always right. We must be cautious in our actions, for unintentionally, we could be afflicting emotional or physical pain upon others.
According to the 2002 data from an annual survey conducted by Monitoring the Future, more than three-fourths of 12th graders, two-thirds of 10th graders, and nearly half of 8th graders have drunk alcohol at some point in their lives. This unhealthy lifestyle is a result of poor decision-making in the early stage of life. Peer pressure is the number one reason as to why kids are consuming alcohol underage. When a kid offers his friend a drink, although the latter may be reluctant to consume it, the friend feels obliged to take it because he is being offered a drink. In addition, the friend probably knows that if he does not take the drink, he may be mocked or bullied by his friend. The phenomenon of peer pressure also relates to the reckless following of popular belief. The fact that many kids drink underage should not encourage you to drink; it is also a fact that most people who drink suffer adverse consequences such as social, academic, or physical problems, as well as an increased risk of committing suicide.
Although we are sometimes overwhelmed by the gravity and myriad of decisions we must make on a day-to-day basis, we must always remember to use our common sense in choosing a course of action. Although certain things may influence us, we must take heed in doing what is right- whether or not it is considered popular. By implementing carefulness in making decisions, there will be a decreased chance of making bad decisions which we will regret in the future.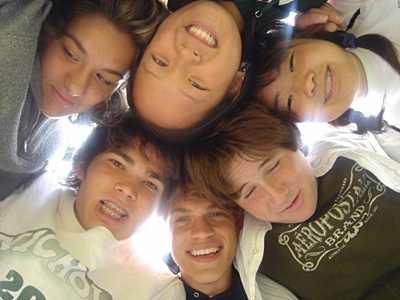 © Zhihan C., Hudson, OH