Human Touch in Urban Life
September 12, 2010
Strolling in the spectacular Shanghai World Expo Garden a couple of days ago, I can hardly recognize the original Bai Lianjing Avenue without the direction board, where the obsolete and crowded ghettoes used to congest, is now paved as stylishly and broadly as any other avenue in the Garden. It's reported that the slum district was completely demolished in order to construct the Expo Garden and inhabitants there evacuated to brand-new dwellings to start brand-new life. Probably you're delighted and soothed for their more decent future as I am, though futhermore I get to worry that with the removal of the last and sole culture relics, Shanghai is inevitably losing her own characteristic to become identical as other metropolises, and the subjective well-being of residents is somewhat effected.

Bai Lianjing Avenue, the axis avenue of the slum district where 64 alleys located and some households have proliferated for seven generations, was the sweet home for more than 2000 inhabitants. Due to the closeness of households, the meal cooked by each household is often shared by the whole community. People live together, discuss together and help together that they can integrate with others and have a strong sense of belonging. However, after being moved to the new houses, they became somewhat nostalgic and reminisced the old life.

In my view, Bai Lianjing Avenue is more likely to be a united and harmonious community, where they can seek for a strong human touch that embodies the characteristic of a city. Wandering on the bustling streets along with a forest of magnificent buildings in concrete jungle, I vainly attempted to find there's any sense of human touch in urban life. People went on their own journeys in haste and the rhythm of urban life is too fast for the human touch to spread. Moreover according to latest surveys on city judgements, Shanghai scored the least in human sense, polled by her native residents, who claimed that most of them were likely egocentric individuals and lacked of community conscience. Nonetheless the current truth is hard to swallow. The government's constantly shortsighted in infrastructures, the old relics are often demolished for economic profits, the original community is often broke off for modern life, which worsens the scanty human touch around us. To demolish a group of old relics is to destory a gentle culture we should have treasured, to resident in modern skyscrapers is to break off human touch of which we're in lack. Walking without human touch, people know exactly where they are walking but have no ideas the destination or mood of other pedestrians; Working without human touch people know what they work on but have no ideas how their coworkers are; Living without human touch, people know which block they live in but have no ideas about the neighbors in their condo. The factor that makes metropolises distinct is the unique city culture we urgently need, and human touch is one of the most important aspects of a unique city culture. Without the human touch, the natives probably have few tender memories on the city they're been living; Without the human touch, outlanders in China are inable to integrate with the natives and feel alienated for no sense of belonging; Without the human touch, foreigners can hardly recognize any metropolise 'cause the prosperity of any metrophlise is flourishing enough to reveal that of others. Apart from the modern towering architectures, cramped flows of vehicles, dazzling and colorful lights at night, there needs to be some distinct differences among metropolises otherwise I doubt whether you can recognize New York, London, Sydney and Shanghai while strolling along the streets unwittingly. In a sense, the lack of human touch directly leads to the crisis of city culture.

What worries me more is that, the lack of human touch somewhat effects the subjective well-being of residents, i.e. happiness in life. For the time being, government is making efforts to spur economy to develop rapidly by any means, and unfortunately overlooking that we're not exactly on the track of the ultimate goal of development – to improve the quality of life, both materially and mentally. Decades of studies have shown that when the economy develops to a certain extent, like Shanghai, a well materially developed city, the subjective well-being of her residents then don't increase signficantly. People're blindly pursuing profits and ignore their mental wealth as they get rich – we're gradually deviating from the orginial goal. Hence I boldly dare to conclude that without the human touch, the prosperity is only a astronomical figure we're in awe of.

It seems that we're in a dilemma whether to be mentally well fed and live in poverty, or to be materially well fed and live in vacancy. I love Switzerland for her highly developed economy and wealthy and educated people, but I doubt whether there's any sense of human touch in their daily polite etiquettes, or it's simply a form they've gotten used to; I also love Guniea for her unsophisticated people and pristine human touch, but I doubt whether they can be maintained with the allure of profits, or it can be destroyed by some figures on their income. People usually tend to love highly developed society, with a highly pristine human touch. As far as in my view, both are available simultaneously as long as every aspect of the city is doing the right thing. Every citizen should attach more importance and care to people around and dedicate more time to the sick, the homeless, the starving; Every community should hold more social activities to make people get along well with the surrounding neighbors; Every company should make contributions to the society like donating to orphan houses and nursing houses as soon as they get enough funds for running, and organize workers to communicate with each other; Every media should not focus on only social issues and faddish gadgets but also the real happiness of people in daily life; Last but not least, the government should preserve and develop the city culture, be longsighted in development pattern and protect the ethnic community as well as city relics from being ploughed into another mountainous building, structure more pulic places like parks or squares providing people with places for communications, most of all, defend the vulnerable groups with policies, never ever try to disturb change their harmonious community with a large tractor. The lack of human touch is caused by the lack of care. If we care more about the outward, we can easily feel the delicate human touch inward.

Standing on the glowing wharves stretching out the riverfront of the Bund at dark night and staring at the assortment of luminous skyscrapers spires that seemed to intend puncturing the sky, I saw the bulk of the buildings that were set as headquarters by a great deal of worldwide tycoons and felt relieved for the booming Shanghai economy in the past 30 years. In contrast with the fascinating scene, a bright round moon hung in the sky way up high overhead. The glaring lights shinning within the skyscrapers illuminated the dark night as if we didn't need the weak and soft light of the ancient moon. Between the iconic landmark that symbolized the peak of the efforts of human culture and the pale moon that stood for eternal harmony of human touch in outdated chinese fables, the one that I felt more intimate to me, however, was the latter.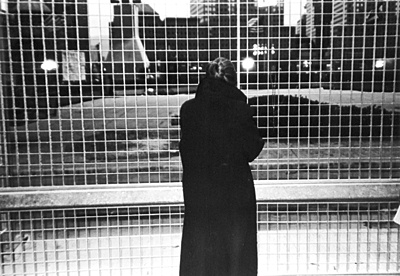 © Morgan H., Marblehead, MA