The Teen Phase is Just a Myth
August 8, 2010
A so called teen phase is nothing but a child's mind evolution. Basically teens start seeing things from a different aspect .What they believed when they were kids just turned out to be a total lie. For girls it could be; discovering the perfect man doesn't exist or that people aren't always happy together, for a boy it could be; discovering there's only 5% chance that he'll become a footballer or that superman doesn't exist. In anyway basically the world comes crushing down in front of their eyes in a matter of seconds what they thought they knew wasn't real what they wanted to be when they were kids wouldn't happen and worst of all they start seeing all the problems there are in the world which they did not see when they were kids. They start to get loaded with harder responsibilities and they start seeing life in it's true colors and worst of all parents or guardians don't help these troubled teens in desperate help they just pass it off as a phase that takes time to pass but that will pass alone…well they got the second one wrong it won't pass easily if the kids are left alone they need to know that everything is ok and that life has it's beauty. In some people the impact is harder, but this happens in situations when, when little given all the needed things and when parents don't stop children from passing a certain level of imagination. Sure a vivid imagination is a great thing to have but a good imagination sometimes children say I wanna be the president of the U.S.A for example and parents say sure you will and you'll let no one come in your way no matter what you'll become the president!
The parent in this case just gave green card to the kid and said that everything is ok as long as you become president. A child could understand this in various ways cause a child think what it wants .A child twists the words to make them become what it wants. I'm not saying parents shouldn't encourage children, that's their job but they should be sure not to set the child's hope to high cause when he grows up he'll realize that he spend half his life wasting his time hoping for a thing to happen and not having a plan B.
People should stop saying "don't worry it's a phase they all pass from at one time or another give them space and let them deal with it alone "they should say "they're passing from a hard time they just realized that what they believed in wasn't possible talk to them, help them"
Every year nearly 5000 teens suicide while passing this so called 'phase' others change their identities while the rest hide what they really are and lead a double life doing drugs, smoking, lying, stealing……and much more the list could go on.60% of the teens nowadays pass through this 'phase' and parents don't even realize it I'm a teen myself and is passing through this phase but not violently sometimes I ask myself who am I really? Who will I become? If they didn't succeed why should I? but I have a straight forward family they say the truth I have a big imagination I admit but I know the things I imagine aren't real I know that people are suffering so where ever I go I put a smile on my face and try to cheer people up. A person I knew actually thought of suicide cause she thought she was useless as her parents had anger issued and called her useless but luckily I got to know her in time and convinced her that she helped a lot that she wasn't useless and just because things didn't turn out all well doesn't mean there isn't any good expecting her in the future.
So don't believe doctors or people who say this is a teen phase they're just seeking your money .Believe a teen that passes from this feeling every day .Believe me ,I talk from personal experience help your kids before it's too late and they start blaming you for what they're passing from if you have a small kid and they tell you I want to be president say "I'm sure you can do it but just in case you don't succeed is there anything else you would like to do, if possible do even a list. An if you have a teens that's backing away and is getting in trouble it's time for the speech, nothing formal just say that you may not know what they're passing true but tell them they're not the only ones feeling this and that they're not alone.
After all we have all been teens and our wish has always been 'I want to be the perfect parent' well it's time to make your dream come true.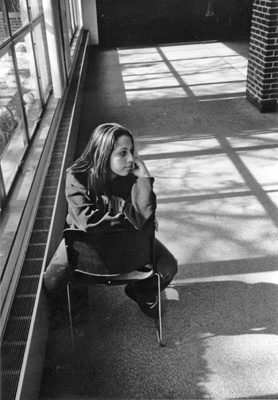 © Leighann E., Westport, MA