The Best for My Child
May 11, 2010
There are children in this generation who don't know what they want to be, but they know what their parents want them to be. There are children in this generation who spend half their life doing what they think their parents expect of them, and not knowing what they expect from themselves in terms of what they want to do. This generation of kids who will run our country one day, do not know what they want for themselves because parents have started the clause "what is best for my child". These parents want the best for their kids, but the extremes that they go to can be questionable.

Parents are starting to become more controlling about what they allow their children watch, take part in, and what type of people they interact with when they are young and more willing to take part in their grooming. This generation is growing in a world that is all sparkle and shine. These children are living in a censured and protected society and don't know what is going on in the world. They aren't allowed to watch movies that have violence, drugs, sexual content; they can't read books unless it's been approved; they can't surf the web unless their parent is in the room with them, and this destroying our generation of children, teenagers, and adults. Children are innocent and do not know anything about anything until they are taught or see something, but parents are hovering over them causing this generation to be dangerous and reckless.

It is shown through statistics and every day life that young adults who dabble in drugs, pre-martial sex, and other things tend to either have parents who did that, or parents who didn't let them do anything outside of the little box they have been brought up in. Parents don't talk to their teenagers about sex because that might make them want to go and have sex. Talking about sex or puberty to teenagers is not what is best for the child, and because this is how American parents have taken this stance; more and more teen girls are becoming impregnated, and in general, these girls are typical girls who enjoy going shopping, have high GPA's, and a good support system, but what they don't have is a realistic view of the world. They still see the world as it was painted in their childhood where their parents were always there for them, where their knight and shinning armor will save her, where nothing can happen to her since her parents never taught or let her see what the real world is like.

It is not only these young adults' innocent that is being stolen from them, but their dreams and hope too. Any child in an elementary school will say that they want to be a doctor, a judge, or something equally needed, but parents are starting to make life decisions for their kids, and they are starting to get more and more involved in their child's life. Although involvement is the key for a child to succeed in life, there is such thing as over involvement, and that is when parents start to choose what their child is going to grow up to be. There are students in high school who know what their parents want them to be, but they themselves do not know. These students do not choose their classes, electives, or any other thing; their parents do. Their parents have decided that they don't want to see their kids make the same mistakes as them, and since they know what is best for their child, they will choose everything for their child.

Growing up is about making your own choices. You start that by choosing your clothes for the say, what you want to eat, and other miscellaneous things. When children are young, they revile in the idea that they are choosing the simple things in the world, but as they grow older, their parents pull back on their options and what they can choose to do. These simple decisions help shape our generation, but with over-protective parents, these kids are step up for failure for they can't do everything everyone wants them to do, and the end result is an adult who doesn't know themselves, who wants to save the world, and who will never live up to the expectation of their friends, community, and most of all their parents.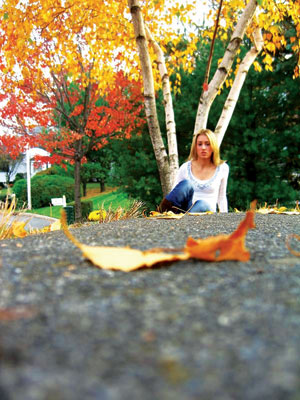 © Stephanie F., Garnerville, NY