What makes South Korea's internet four times as fast as the U.S.'s
April 21, 2010
Many American internet users have experienced the dreaded wait for internet connections to load, but why is it that the U.S., where the internet was created has an internet connection that is four times as slow as that in South Korea? South Korea not only has an internet that is four times as fast as that of America's but on average according to cnn.com they pay $17 dollars a month less than Americans do.
Robert Faris the research director at Harvard University's Berkman Center for Internet and Society said "The whole political and social climate is so different, the geography is different, the history is so different," (cnn.com) as the reasons why the internet is so much faster and cheaper in South Korea.
Many people blame the little competition in the U.S. between companies for customers as the reason for the slower and more expensive internet in the U.S. In South Korea there is more companies and competition for customers. In South Korea and other countries with faster internet than the U.S. such as Norway and Canada, companies are constantly competing with each other to offer the best prices and the fastest internet connections. Here in the U.S however, most people are left to choose between a cable company and phone company for their internet connections. As Yochai Benkler, co-director of the Berkman Center writes in a New York Times editorial "Without a major policy shift to increase competition, broadband service in the United States will continue to lag far behind the rest of the developed world".
Many people don't realize i that the culture in the South Korea is much different from ours. For example in South Korean the demand for faster and cheaper internet connections is much different then that in the U.S. In South Korea 94% of the population is connected to high speed internet as compared to the U.S. where only 65% of the population is connected to high speed internet according to OECD. To many, these statics seem surprising because one would think that it seems as if just about everyone in the U.S. is hooked up to high speed internet. But, if you look at what the South Korean has done to get everyone hooked up to high speed internet these statistic differences aren't surprising. A decade ago the South Korean government on having a highly internet connected country. More recently, the South Korean Government encouraged its citizens to hook up to high speed internet by subsidizing the prices for low income and unconnected households. For example the South Korean government has a program that connects housewives to the high speed internet and teaches them how to make use of the web in their lives. The U.S., however, has not enter into the internet situation, and has left it to private businesses to deal with.
Many people in the U.S. internet industry agree that U.S. can't and shouldn't hold back. Such as Robert Faris who admits that a big difference between the internet speed between Korea and U.S. is a result of Koreas "decisive move to expand Internet in the country," (cnn.com). In Korea parents place a higher value on education and thus demand faster internet connections for their kids. Whereas in the U.S. there is a slightly less value placed on education and many parents are actually trying to keep their kids off the internet and from sitting in front of a computer all day.
Hope lies within the FCC's broadband plan that, if instated, plans to have 90% of Americans on high speed internet by 2020 and places an ultra high speed connection in every community.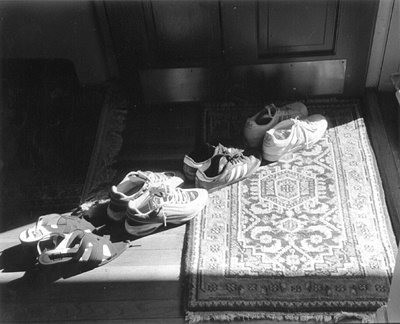 © Caite P., Marblehead, MA