Outsider
February 12, 2010
If you look at me, just a glance, I look normal. An average girl with blue jeans and a teenage heart. Big sweatshirts to cover a self-conscious body. Hair that looks plastered into a thin layer, voluminous as paper.
Open me up, and I am an outsider.
I don't think like you. I don't dream like you. Heck, I barely see what you see or understand what you understand. We hear different. I am so completely unlike you, I consider myself an alien in my own race. If you knew me, you'd think that too.
It's hard just to open up and show people that. So I hide myself under a mask of the status quo. To you I'm just one of the billions of people. To me I am the only one out of the human network.
It's hard to live a good life with all this internal conflict that I have. One moment you think you're normal, laughing along with friends at a movie or at that local diner. The next, you're home alone with nothing but your mind and you realize that you'd put on a fake body and gone out for the night. When I'm home I see what I really am.
I bet you're thinking I'm suicidal. Man, if you could see me laughing. No, I'm not suicidal. You can discard gothic and emo also. If only you knew.
The truth is… I'm schizophrenic.
Yeah, I know. I just dropped a major bomb. One that can't be cleaned up. Now if you look at me, that's all you see. That label. My malady is a label I will never be rid of. So I decide to hide that label, bury it in other fine print of life.
Yeah, I hear voices. I know they're not God or an angel or whatever. For me its not that bad. Maybe because I haven't told anyone, maybe it's because I've been keeping it inside me for a real long time. It's a curse. One that I'll only be rid of once I die. Maybe not even then. Lovely thing to look forward to, right?
What really kills me is when I'm in big crowds. When I see the average person leading an average life. Knowing that I will never have that because of the thing in my skull not working like it should. You don't know how many times I've considered doing drugs or other horrible things to myself just to dull the voices, to make them shut up for only a moment. I've actually lost count of the times I asked myself if I still wanted to live.
The things they tell me, those voices, they haunt me. It takes every bit of my inner strength to ignore them, pretend I'm not hearing the monstrous things they're telling me about my life, my friends, and everything else.
All this is a permanent reminder that I am an outsider, never meant for a normal life. I am broken, beyond repair. Impossible to fix. Forever.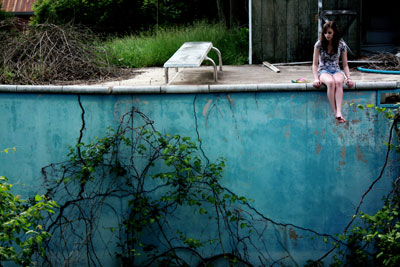 © Myra K.