My Grandpa
MAG
Christmasmorning last year, my grandfather suffered a stroke. He was only 59years old. They could find no medical reason for his problem, but two weeks laterit became clear. He had cancer - in his liver, stomach and gallbladder. He wasgiven three to six months to live. The entire family was devastated.

Whatmakes this even worse is that my grandfather had never been sick in his life. Henever had to go to the doctor. He was never on any medication. He was so active.Watching him wither away is the hardest thing I have ever had to live through. Hehas lost so much weight that you can see all his bones.

At first all Iwanted to do was cry, but my mother would not allow this. She said that if Iwanted to cry, I had to do it at home, and we could cry together. It has been sodifficult being strong for my grandpa, but I have kept my promise.

One waythat I cope is to spend as many hours with my grandparents as possible. I neverwant to look back and wish that I had been with them more. I am there afterschool whenever I don't work. I bake my grandpa's favorite cookies. I take himtreats, and sometimes I just sit next to him and cuddle. This is what I enjoy themost.

Another way I cope is by helping my grandparents. Once a week I mowtheir lawn. I do not want my grandfather to exert himself when he has so littleenergy. I also run errands, help clean the house, and sometimes I even volunteerto cook, though they have not taken me up on this yet.

Some days I wake upand think I cannot bear to see my grandfather because he is so withered. Then Ithink about how not going would make not only him feel bad, but me, too. It hurtsso much to see him suffer, to watch him vomit every time he eats, to see thehumiliation in his eyes because I am witnessing it all. Yet, the pain I feel isfor him. I hate knowing he is suffering. I wish there was more that I could dobecause I love him so much.

I feel it is important to capture as manymemories as you can while you have the time. This, to me is the best way to cope,not by hiding from the disease. Not by avoiding what makes me uncomfortable. Ihandle my problems by making my grandpa the most important thing in my life. Iwill never look back and wish that I had spent more time or had moreconversations. I cope by sharing my pain with my mom. We cry in each other's armswhen the stress gets to be too much. We are strong, we are united, and we are alljoined by the greatest bond of all, the love of God.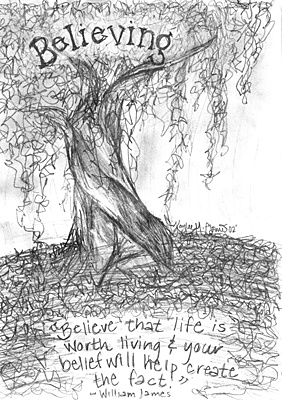 © Kaylee E., Coraopolis, PA