Christmas Then & Now
MAG
At this very moment my father is playing Christmas music so loud that it can be heard throughout the house. Listening makes me feel nostalgic. You see, I'm the youngest of four kids - by a large margin - and Christmas has always been the biggest holiday at my house. In elementary school I used to wait desperately for the day that my brothers and sister would come home from college because that meant Christmas was really coming. Once they were home, we were one big happy family.

On Christmas morning I would run from bedroom to bedroom waking up my very reluctant siblings at what they thought was the crack of dawn - though I had already been up for hours! We'd gather at the top of the stairs so Dad could delay opening the gifts by making coffee and insisting he take a picture of us. Once he gave the signal, I'd race them all down the stairs. Every year my only real competition was my oldest brother, David. We'd run as fast as we could, pushing and shoving and seeking alternate routes to the room full of presents. I always looked forward to that race.

Once we all got a good look at our presents, my parents made us take turns opening them one at a time. I always made sure I was the first one to wish my brother Kevin a happy birthday. After presents, the six of us always sat down to a big breakfast.

That was then, and this is now. My sister got married four years ago. After that, I only had to wake up four people on Christmas morning. There were no longer six of us in the family picture. A year and a half ago, my brother David got married. Since then, I've only had to wake up three people, and there were only four of us in the picture.

Last year was the first time I didn't have anyone to race with. I miss that. Soon my brother Kevin will be married and our family picture will narrow to three people. I won't be the first to wish him "Happy Birthday." Then, I'll only have to wake up two people.

When I think back to the Christmases when we were all together, I feel sad. The most important people in my life are my five family members. It feels as though I have a hole in my heart when they all aren't there. I'll always long for us to be together again as the "original six." But I still have all those memories and the excitement of Christmases to come. My family - that's what really matters to me. .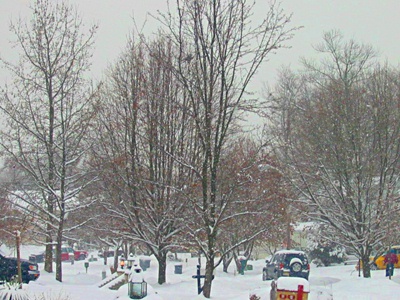 © Kristen S., Sewell, NJ