Faith, Hope & Love
MAG
My best friend Laura and I met in 1992, and, with complementary senses of humor as well as wild imaginations, we understood each other immediately. We had a special way of communicating and had many common interests. Like Laura, I preferred reading, writing and learning to soccer. What I didn't understand then was why she didn't, wouldn't or couldn't do the many activities I took for granted. With her leg brace, exceptionally thin body and one hand that didn't seem to work well, I could guess there was something wrong, but I didn't know what the problem was for a while.

Later, I learned about Laura's medical history, and visited her in the hospital. Sometimes I would even accompany her to her check-ups. Laura was born without a right ventricle, the part of the heart that pumps blood to the lungs. When I was little, I only understood that Laura had a hole in her heart, but now I know much more.

When Laura was three, she had surgery that was supposed to help her heart work better and give her body more oxygen. Instead, she had two strokes. Her left side recovered, but her right leg and arm were never the same. Laura was in the hospital for eight months that year.

She was in my first-grade class and all throughout elementary school we played together during recess. Every day during middle school, we were known by the teachers as best friends. Often before her surgeries, we had parties toasting her future health and happiness.

The spring of 2000 promised to bring health, happiness and prosperity. The last time we played before her surgery, I was carefree. Being only 13, I focused on the coming summer, with a vacation at the beach, and the fact that Laura's heart surgery would enable her to participate in normal activities. She was supposed to endure the same surgery that had resulted in her strokes. According to her doctors, a change in the procedure would increase her energy and lengthen her life.

Laura came home from the hospital a week after the surgery, but was rushed back with a staph infection. She remained hospitalized, and though I visited several times a week, I was unaware of the seriousness of her condition. She came home in September, but did not return to school. In late October, I got devastating news.

Whenever I called Laura, her mother would tell me how much Laura wanted to see me. I visited on weekends, but felt bad because I never stayed long. Plain and simple, I missed my best friend.

The look Laura had on her face when I arrived was the most uncertain I'd seen in all our years. I could tell she was truly frightened. Laura had a disease called protein-losing enteropathy, or PLE. Her doctors had finally given a name to what had already eaten away at my best friend for months. Her options were essentially to stay as she was and eventually die, to have more surgery which would give her a 25% chance of survival, or to have a heart transplant, which most likely she would not survive. When the truth about Laura's illness was known, I felt more fear and sadness than ever before.

As I climbed in bed that night, confused and afraid, I began to pray, something I hadn't done in a long time.

"Please don't let Laura die," I sobbed, holding my folded hands up to the ceiling. "She can't die. She just can't." I curled into a fetal position, put my face into a pillow, and sobbed until I fell asleep.

I cried and prayed every night, and often at school. As her illness worsened, I learned how to cry in front of my friends and I was able to talk about upsetting things as never before. Laura's unwavering faith in God, and the love and support of other close friends and teachers, allowed me to stay strong enough to keep loving and visiting Laura.

Weeks passed, and Laura's illness progressed rapidly. She was again hospitalized, and I became increasingly afraid. Everyone kept asking about Laura, and to the outside world I became less emotional, but inside I was crying for someone to listen and understand. I was trapped, and when I was told that Laura didn't want to suffer anymore and had decided to go home and be cared for by hospice until the end, I was completely and utterly distraught.

Then I found out they were going to try a second surgery. The Fontan Takedown, as it was called, would reverse the first surgery and hopefully cure the disease. Laura's mother answered the phone, and I heard groans and mumbling in the background. Soon, I heard Laura say, "Hello?"

"Hi," I replied quietly. I paced around my kitchen, thankful that no one else was home.

"I don't know, Allie, I don't know," she moaned. "I love you," she said.

"I love you, too," I answered, trying to keep my voice steady. "I wish I knew." After my reply, Laura started to moan that she didn't feel well, and her mother took the phone.

"I don't know, Allie, I don't know," she told me, just as Laura had.

I kept pacing around my empty house, tears streaming down my face as I remembered our many happy memories.

I said good-bye on April 22, 2001. The second surgery had been as ineffective as the first. Crying, I told her I loved her and gave her a hug and a kiss. Because she was on morphine and unconscious, she couldn't

respond, but I knew she understood me. She was the only one who ever had understood me, and I knew she always would.

"I love you, Laura," I said. "You're my best friend ever. I wish I could take it away from you, but I can't and I'm sorry." I visited for the next four days. Though she was unconscious, I held her and told her I loved her over and over for hours. She finally let go on April 26, to a Jessica Andrews song with lyrics that read, "How did you reach down inside and find a butterfly? I'm a butterfly, learning how to fly. These wings, they fly away, hide away. I want to fly away."

Two and a half years after Laura's death, I am beginning to realize how much I have changed and grown. In these years, I have actively commemorated her in my town, as well as with the Children's Heart Fund of Buffalo, an organization that tries to cure PLE. I have talked to parents of children with PLE, and worked to increase awareness of this terrible disease. By reaching out, I have truly begun the healing process.

My priorities have changed. I no longer worry about being the perfect student and instead focus on taking care of myself, healing, and making friends. My relationship with God has become one of the most important aspects of my life, as I rely on Him for strength and courage daily. I have learned how to grieve, and how to live again. I have discovered that grieving is the difficult process of balancing sadness for what is lost with happiness and hope for the future.

I am a different person because of Laura. I am no longer selfish and do not feel invincible; I have learned to cherish what I have and live life to its fullest. I remind myself that I don't know when I will die, and I am thankful for how fortunate I am. Laura taught me that what matters most in life is never giving up hope or losing faith in God.

Above all, Laura taught me that I am a good person capable of loving, hurting, and most important, taking care of those I love. Though I still miss her terribly, I know I did the best I could to love her, and that I made a difference in her life. And sometimes, I hear her angelic voice singing softly in my ear, "I could not ask for more than this time together. Every prayer has been answered, every dream has come true. Yeah, right here in this moment, is right where I'm meant to be. Here with you, here with me. No, I could not ask for more than this love you gave me, because it's all I've waited for. And I could not ask for more" (Sara Evans) and I smile, knowing I am a better person because I loved, and was loved by, Laura.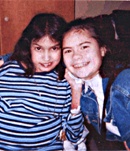 © Laura and I, Christmas 2000