Music Giving Voice to the Silent
November 15, 2009
A new wave of powerful songs has emerged from some of today's most prominent artists. The music itself includes upbeat vocals and cheerful instrumentals, while the lyrics reveal the cruel underbelly of domestic violence. The misleadingly positive sound serves as cover-up for the bruised and broken lyrics below. The following artists have given voice to those whom are too frightened to use their own.
In their single "Face Down," the Red Jumpsuit Apparatus takes the position of one who watching helplessly as a friend remains with an abuser, even when the evidence is clear on her face. "Cover up with make up in the mirror/Tell yourself it's never gonna happen again/You cry alone and then he swears he loves you."
Bowling for Soup's "99 Biker Friends" sheds a comical, yet depressing light on the possibility of solving violence with violence. The band presents themselves as a friend threatening a pretty young girl's abusive boyfriend. "She's wearing shades but we all see/Behind the tinted glass./And I've got 99 biker friends/That wanna kick your" derriere.
"Father of Mine" by Everclear brings the listener into the mind of a child forced to watch his father abuse his mother and then abandon them, leaving pain and unanswered questions. "Tell Me How Do You Sleep/With the Child You Abandoned/And The Wife I Saw You Beat"
No Doubt portrays a woman warped by violence in the infamous single "Underneath it All." A battered woman convinces herself through out the song that her abuser loves her and is more that simply his fists. "There's an underside to you /That so many adore /Aside from your temper… And when it's really bad /I guess it's not that bad."
P!nk's "Please Don't Leave Me" is an unsettling portrayal from the point of view of an abuser. Her music video features a man who tries to flee his abusive girlfriend, only to be abused in a fashion directly out of Rob Reiner's Misery. The song is sung comes from the lips of the sadistic girlfriend. "I forgot to say out loud how beautiful you really are to me/I can't be without, you're my perfect little punching bag/And I need you, I'm sorry."
Katy Perry's "Hot 'N Cold" illuminates the emotional aspect of domestic violence as a woman discovers that her boyfriend doesn't really love her and enjoys breaking her spirit. "You always speak critically/I should know/That you're no good for me…I should know that you're not gonna change."
After returning to her abusive boyfriend, Chris Brown, Rihanna produced "Russian Roulette." Whether connected to her own situation or not, the song portrays a woman blinded by violence, who regrettable remains with her abuser to demonstrate the strength of her love. "And I'm terrified but I'm not leaving/Know that I must pass this test/So just pull the trigger."
Nickleback's "Never Again" uses a child's eyes to demonstrate the effect of violence on the entire household. As he watches his mother shoot her abusive husband, the cycle of abuse is revealed as violence solves violence and leaves scars on the next generation."I hear her scream, from down the hall/Amazing she can even talk at all/She cries to me, Go back to bed."
The most important message comes from Flyleaf's "Unbreakable." To all the victims listening, the band reminds them that removing themselves from abusive situations is the key to finding their inner strength. "The ones who beat me down and bruised me/This time I'm not scared/Now I am unbreakable, it's unmistakable/No one can touch me"
No matter your gender, age or race, if you or someone you know is being abused call the National Domestic Violence Hotline at 1-800-799 -SAFE (7233). The musical world has illuminated this worldwide problem, so that every person experiencing abuse can finally find his/her voice.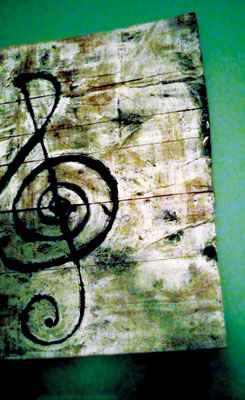 © Olivia K., Canton, OH