And So It All Changed.
May 25, 2009
I remember the day we packed up my life into cardboard boxes with the intent of starting from scratch in a new town I know nothing about, with people I had yet to meet. I remember the last time I stood in the room in which I had grown up, the last time I looked at the light pink walls with the flowery wallpaper I had picked out myself when I was four. I remember the last time I gazed out my window at the rose bushes outside, trying to savor their sweet smell even though they were feet below where I stood. I remember the day this house, the only home I had ever known, was no longer to be called mine. This was the day that my life changed. For the better, or for the worse, I still have not yet decided.

I grew up in Chicago on the very outer edge of the city's northern border in a small neighborhood called Edgebrook. I walked to the neighborhood school for kindergarten and first grade, and it was there I met my three best friends, who I still keep in touch with today. After first grade, I transferred to Edison School in the town next to ours where I could get a better education. There I easily made friends, especially since there were only 30 kids in each grade, 250 total from kindergarten to eighth grade. I was comfortable there, and it wasn't until I moved here to Palatine that I even questioned how small a school it was. My class was my family, I had been with the same people every school day for three years, and besides the occasional times I hated them all, I wouldn't have had it any other way.

I was in fourth grade when I found out we were moving. Sure, I had known we were looking for a new house for quite some time, I had been to most of the open houses we had attended, and I had even enjoyed them. I had raced from room to room with my older brother, marveling at all the pretty furniture that other people had in their homes, wishing our own rooms looked as nice. We would have contests as to who could finish the entire house the fastest, or have long debates over which room was the best. I loved seeing other little girls' rooms. I would want to move into the house, but only if it came with all the furniture and toys.
But it had never actually been real. We went to so many open houses and saw so many different choices that I stopped believing it would ever happen. At first, I had wanted to move. To start over, to make new friends and be whoever I wanted to be. I fantasized about my first day at a new school, dreamed about all the new friends I would make. But then I would wake up and return to normal life in Edgebrook.
And I was perfectly contented in that life. After all, it was all I had ever known. Helen and Nick, the old couple who lived next door, baked sugar cookies for my brother and I every year at Christmastime. Erica, the girl who lived across the street, was a good friend of ours, until our falling out when I was about five, of which I still don't understand the cause. Mrs. Gray, the principal of my school, used to kid me about being her long lost daughter, and even though she was black. Bonita, the little dog that lived on the corner of the street three houses down would take walks with her owner, but they could only get as far as our house because Bonita was a little chunky. The park down the street that all the kids called Choo-Choo Park because it was located right next to the train tracks. When a train would come by we would all run up to the fence and pump our arms, waiting for the ever-entertaining blow of the conductor's whistle. There weren't very many kids on my block, but my brother and I were content with ourselves. We would rollerblade around the neighborhood, climb the tree in the front yard, walk to Choo-Choo Park, or swim in the pool in the backyard. It was a good life, and I never thought it would ever actually change. Until it did.
I don't remember the exact day that I found out that we were moving, because it was something that we had been talking about for a long while. But after months and years of looking for a new house, it was finally decided. Palatine it was. So the house was bought and paid for, the land was broken and the cement was laid before my fourth-grade mind could even fully grasp the concept. We were moving. For real this time, not just my mother dreaming about a bigger house and room for a vegetable garden in the backyard. We were really moving away from everything I had ever known.
I remember looking around my classroom one day, daydreaming while my teacher droned on about the solar system or something to that affect. "I will never walk the halls of this school again after this year. I will never be a fifth grader at Edison, the eighth grade teacher that everyone loves will never know me, and I will never know him," I thought over and over to myself.
We had a going away party the last day of school with all my friends and teachers. Every teacher I had ever had came to wish me well and see me off. The principal even came to see her long lost daughter one more time before she was lost again. It was a horribly sad day. I was leaving behind my family, my sisters. The girls in my class wrote me a goodbye letter and all of them signed it and we promised to write each other and stay in touch. I sincerely believed that would happen. I couldn't image my life without those girls, without the teachers that had taught me so much, without that school at all. I dreaded the bell that signaled the end of that last day, the bell that I usually could not wait for. But that day, for once I did not want to leave school. I couldn't bear to say goodbye. Nevertheless, that bell did ring, far sooner than I had hoped, and it was time to leave. With quick last hugs and promises to visit, I was no longer a student at Edison Elementary School.
I stood in my room for the last time. Besides a few scattered boxes the movers had not yet taken outside, my bed frame was the last thing still standing. This was it. I would never again stand in the room in which I played dolls for hours on end, read bedtime stories with my mom late into the night, lived and grew up in for my entire life. The movers interrupted my thoughts, pushing their way into the room to take away my last possessions and load them into the truck. I watched them struggle to fit the bed frame through the doorway that I had walked through countless times, but never until that moment fully appreciated. Following them out of my room, I walked around the house for the last time. As cliché as it seems, I whispered goodbye to everything in sight, from the oven I burnt my hand on when I was three to the dent in the wall my brother and I made fighting when we were younger, and hoped the next owner of my house would take care of it as well as my family did.
As I watched the big white trucks pull out of my driveway carrying all my possessions, my memories, my whole life off to another town I knew nothing about, I couldn't help but wonder how it would all turn out. Despite how terribly sad I was that I was leaving, I realized that I had a chance to start fresh. New school, new friends, new life. I would never forget my old friends and the memories I made in Edgebrook, but I embraced this opportunity I had to make new memories.
And make new memories I did. This was not the end. No, it was just the beginning.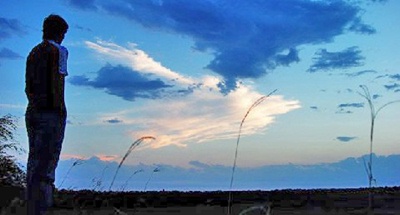 © Stefanie K., Katy, TX