Awareness of Mental Health
April 24, 2018
When the term "mental illness" gets brought up, everyone around wants to get quiet because they think that it's an awkward thing to talk about. But why are so many people afraid to acknowledge mental illness? It's not like 1 in 5 people in the United States live some type of mental illness. Yet, in society it's not okay for us to talk about it and we have been taught to just pretend like it doesn't exist. Mental illness is life threatening to anyone with one. With there being so many different kinds of mental illness and some signs not showing until it's too late it needs to be talked about.
Medication is sometimes one of the only things that allow people with mental illnesses to function in society, and often times the medication can't be afforded. But with them being put on medication comes the risk of not prescribing the type of mediation that is going to help them. Sometimes even when given the right medication it can take a negative effect on the individual. Since mental illness affects a fifth of Americans, these two things need to be talked about.
While the mental illness is mainly affecting the one person, it also affects the people who are around them. It can lead to self-destructive behaviors and addictions, such as hyper-sexuality, alcohol and drug abuse (ex. weed, pills, heroin, etc), paranoia repetitions, trust issues, overspending, hoarding, lying, theft, etc. These problems can affect friends and family of them and even society.
Mental illness is so prominent, so difficult, and so detrimental to a stable life. Seeing someone with a mental illness is hard because they are going to have setbacks but they are also going to grow. But a lot of them can't talk about them, so they will keep things to themselves and it'll only make things worse. With them to not be able to freely express their concerns about the mental illnesses , it will only make matters worse and lead to more damage in the long run. They should be able to express themselves without feeling stigmatized, burdened, looked down upon, or merely pushed to the side. But society does exactly those things, and it becomes hard on the individual to reach out and gain the real help that they need.
Mental illness needs to be talked about more. We can't just be sweeping it under the rug. This is an issue that needs to be addressed. Mental illness needs more support and recognition by the general public. It is not a thing that should be handled alone. It does not mean failure, it means that you see the world differently from most of us. In the long run, if we don't start talking about mental illness, it's just going to get worse.
Next time that someone brings up the topic, please don't shy away. Talk about it. Talk about concerns, consequences, facts, possibilities, help, or support. It all starts with one person. The more people talk about it, the more that can be done to help it.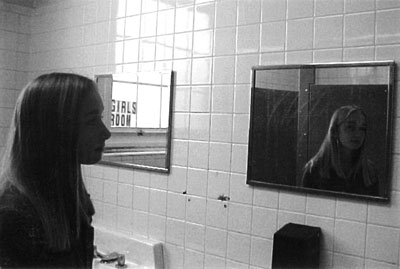 © Jill H., Pompton Plains, NJ