The Man Who Took a Knee
October 27, 2017
During last years football season, during a time of brutality, despair, and injustice, one man took a stand. A man by the name of Colin Kaepernick, an African American quarterback for the San Francisco 49ers, took a knee during the national anthem in protest of fighting for black rights. Kaepernick, a quarterback who led his team to the Super Bowl in 2012, risked his own dream of being an NFL player because he decided that there were bigger issues in the world than the gridiron. A year later, a multitude of African American players follow his way in order to address their political views. Many teams have locked arms to signify unity as the United States of America has been more divided than in recent history. Many think this way of protest is wrong because of the players disrespecting the flag by being unpatriotic and not honoring the soldiers that have fought for our freedoms, yet, these players ignore the presence of the media and continue to stand for what they believe in.

Big name players such as Marshawn Lynch, Michael Bennett, LeSean McCoy, and more have decided that the political issues in our nation need to be addressed. With the hate and harm directed towards the NFL, some players still do not stand for the anthem, but more join in. Recently, President Donald Trump addressed the issue in Alabama during a rally. Trump called each of these players who take a knee "sons of b****es" and unpatriotic. He claims that all players who take a knee should be "fired" and said that the NFL has to stricken their rules. However, these comments have only empowered the players to still stand up for what they believe in.

On the Sunday after those comments, teams have taken more knees, raised their fists, locked arms, and some not even coming out of the locker room for the anthem. As of recent, white athletes are getting more involved in the protests. These players have locked arms and some putting hands on the shoulders of the kneeling players during the anthem. Before a Thursday night game between the Packers and Bears, quarterback Aaron Rodgers called for each of the fans in the crowd to join them in lockings arms to show unity. Obviously, some didn't follow this, but others did. Some chanted USA during the anthem while others stayed quiet and locked their arms.

With just a simple action, Colin Kaepernick has both united and separated the United States at the same time. By just taking a knee during the anthem, America has turned into a warzone with furious people, but also unified many. With many joining in and locking arms to show forms of unity, others have boycotted the NFL until the players stop their actions. With our country being divided in half, we must find a mutual area where we can all merge into one to save our future, and that can be through sports.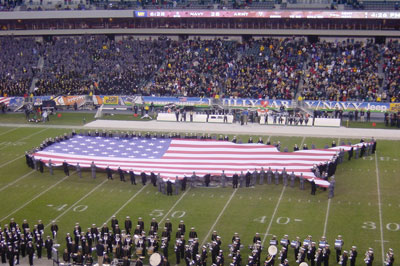 © Kristin B., Middletown, DE