This I Believe
October 27, 2017
Equality. Having the capacity to accept someone for who they are. The core to a healthy relationship between a community and its people. Disregarding sexual orientation, gender, looks, intelligence, skin color and religion. One of the things our so called "great" country is missing.

This is a elephant like commodity that is unattainable, but is uncoincidentally one of my biggest principles. Equality is a necessity in everyone's daily life, colored or not. "It is time to close this chapter in our history...It is time to recognize that sacrifice, valor and integrity are no more defined by sexual orientation than they are by race or gender, religion or creed." President Obama once said in a public statement.

It all starts with racism. Racism will always be a touchy subject but is definitely a problem. Our country needs to stop condoning this type of behavior because an American born Muslim or anyone of another race or religion is just as American as a white person. They're skin color and looks doesn't scream American but legally and at heart, they're just as American as an ordinary,hardworking, kind and optimistic American citizen.

This eventually leads up to another ticklish subject, police brutality. Police brutality and racism are tied hand and hand, but at least someone took a stand. Colin Kaepernick. The brave soul who decided to take a knee during the National Anthem. The National Anthem is a song that sparks a sense of patriotism and reminds everyone of the struggles and journey of this country. When the anthem is sung it is a time of reflection to remember all the fallen, retired and active soldiers who have fought for this country. Kaepernick's timing was not perfect, but his concerns were actually addressed and spread throughout the country like wild-fire. His message was against police brutality and especially Donald Trump. At first I saw this and thought to myself "What is this guy doing? Kneeling during the anthem? How come?" with a million other questions rushing through my head. I then learned why he was doing it. His concerns opened up my eyes and I saw a different side of this country. I always thought this country was perfect in a sense that there was no violence and racism ended after the the Civil Rights Movement in 1964.

Eventually, his message was sent to the rest of the league and at the beginning of the 2017-18 NFL season, all 32 teams along with the a handful of team owners took a knee and locked their arms. This sends a message about the state and crisis in our country regarding violence, racism and the lack of equality and the take our "president" has on it.

Donald Trump became a catalyst for the protest when he said during a campaign rally in Alabama, saying he wished that NFL players would be fired for kneeling during the national anthem. "Wouldn't you love to see one of these NFL owners, when somebody disrespects our flag, to say, 'Get that son of a ***** off the field right now, out, he's fired. He's fired,'" Donald Trump said. "You know, some owner is going to do that. He's going to say, 'That guy that disrespects our flag, he's fired.' And that owner, they don't know it [but] they'll be the most popular person in this country."

My belief is that this is the best way to show the lack of racial equality and is finally sending the message that it's absence is what is tearing this country apart. My belief is that equality, whether it's towards racism or sexism, is the key to peace in our country.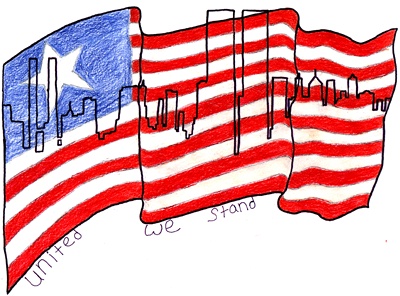 © Casey S., New Lisbon, WI