Red, White, and Blue
October 4, 2017
Our country—the red, the white, and the blue. People show their affection to the U.S.A. and all veterans throughout the year. We ignite colorful fireworks on the Fourth of July or Memorial Day and commemorate the soldiers who sacrificed themselves for us. Individuals join with others to celebrate this beautiful country, our home.
Because of brave souls who served our country, we are able to have luxuries such as education and freedom. Individuals attend high school to receive an education and go to college to be able to further their learning and to later on make a living. Not everyone has this chance. We are all brought together in a melting pot and we accept each other. We join together to show respect to our country, our home.
We are the land of the free because of the brave. Most Americans have never had bullets fly by their heads; yet, they're free because of men who have experienced that. And we must remember that freedom doesn't come free. There are people who have the bravery, heroism, and perseverance that others don't and they add greatness to this country, our home.
Showing love, acceptance, and gratitude to the U.S. in small ways is patriotism. We learn about the U.S. and we respect the flag with our right hand held proudly to our heart and we show our love to this country, our home.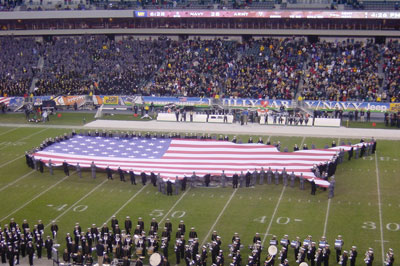 © Kristin B., Middletown, DE