Why I Hid My Lunch
MAG
August 6, 2017
Dried-up carpet.
What comes to mind at those words? A shriveled, ragged rug covered in dust? A dilapidated blanket held together by thin threads, now flimsy with age?
I see an elementary-school cafeteria, buried under eight years of memories. A young Asian girl sitting at the end of a long, wooden table, a phantom boy on her right. I don't remember his name, nor his stature, nor the color of his eyes or hair. I only remember what he said to me, the girl beside him, his words tearing through my skin, opening a wound that bled so much shame and insecurity, it took years to heal.
As I reflect on his words, I feel I may have overreacted a little, taking offense at such a silly comment. If someone said the same thing to me today, I would laugh. But I was young, much more vulnerable, and I didn't understand. Looking back, I don't think he did either. He was just a child, swinging words around like a scythe, unsure of what he was saying and unaware of who he would strike. And he happened to strike me. Perhaps he didn't mean what he said, but the emotional blow he inflicted with his ignorant words hurt me.
When I was young, my favorite Vietnamese food was com voi ruoc – rice with rousong, a dried pork product that originated in China, had a light, fluffy texture and an appearance resembling brown wool. It may have been a bit of a challenge to chew, but its meaty, savory flavor satisfied my tongue. I had no shame bringing it to lunch in my sky blue lunch box – until I realized ruoc wasn't a typical meal for an American first grader.
As I took my assigned seat at the end of the lunch table, I glanced around nervously, seeing sandwiches and apple slices and juice. No ruoc.
I was hungry and eager to taste my favorite food, although a little hesitant to pull out the Tupperware container that held my meal. The moment I removed the lid, I looked down the table to see if anyone had seen my lunch.
The boy beside me had.
"What are you eating?" he demanded to know, his loud, disgusted exclamation turning the heads of the other children. Before I had a chance to reply, he stood and shouted down the table, "Caroline's lunch looks like dried-up carpet!"
Immediately the image of lint clumps sticking to my grandparents' carpet came to mind. I imagined them in my rice, thinking that's what ruoc must look like to him. I was mortified. I don't remember the reactions of the other kids – all I remember is the wave of humiliation that crashed over me.
I didn't eat that day. When my parents later asked why I hadn't touched my lunch, I was too embarrassed to tell them what had happened. "I wasn't hungry," I lied.
"But it's your favorite," they'd protested, and proceeded to pack me ruoc the next day.
And so my shame continued. On the days I had ruoc in my lunch box, I did my best to hide it. For years I worked to conceal my lunch from my peers in fear of their judgment and mockery. I trusted only my closest friends with the embarrassing secret of why no one could see my food. But trusting them, as it turned out, was a smart decision.
It was my friends who brought me out of hiding. They didn't make fun of my culture; they appreciated it. And because of them I learned to appreciate it too. I realized that my heritage is an important part of my identity, and in hiding it, I was hiding who I was from the world. There were a few other Asian girls at my school, so when I befriended three of them in the fourth grade, I was surprised and reassured to find out that they understood my struggles and what it was like to be different.
Now, I'm proud to be Vietnamese American. No longer do I fear others judging me for who I am, and people rarely do. No longer do I hide my heritage. No longer do I feel shame in being different.
I haven't yet forgotten what that boy said to me, that day in the cafeteria. Perhaps one day I'll let it go, let his words be a thing of the past. But, as the saying goes: People may forget what you said, but they will never forget how you made them feel.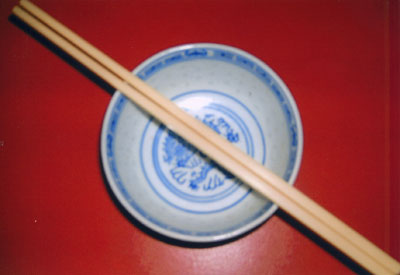 © Brian N., Milford, CT