Change the Channel
MAG
March 25, 2009
Commercials. We all hate them, some more than others. Many of us try to avoid them as much as possible. But for those who watch them, I have a reason why commercials may be a lot worse for us than we think (besides the fact that they make us wait five minutes for our favorite show to come back on).

We may not even realize it, but much of what we see on TV affects how we think and act. Television shows and commercials often put images in our heads that we instantly believe. For example, when we see someone who has a mental disability, such as Down ­syndrome, what do we think? Idiot? Charity case? We've all seen actors on TV call others "retards" if they are acting foolish. We've seen ads for charities to help research mental handicaps. Watching this, someone may conclude that these people are helpless charity cases. This is wrong – dead wrong.

Two people who are very important to me have mental disabilities. My 10-year-old brother was born with autism. People with autism don't look different, but they exhibit strange behaviors. It also affects their ability to communicate with others. He has more trouble with some things than other people do, but he manages to work through these challenges and succeed. He is now in fifth grade, near the top of his class, and serves as student council president. He is one of the funniest, most lovable kids you will ever meet, and most people can't tell he has autism. I often forget myself.

In addition, my uncle, who is 35, was born with Down syndrome. This condition affects people both physically and mentally. Common physical characteristics are upward slanting eyes, small ears, and a large tongue. Down syndrome also affects a person's ability to learn. Although it may be at a slower rate, they do learn, contrary to some beliefs.

Uncle John has challenges, but, like my brother, he manages to work through them and succeed. He lives independently with a ­roommate who also has Down ­syndrome, and he has a job. John is loved by almost everyone he meets. He is also rolling-on-the-floor-not-being-able-to-breathe funny, especially when he tells stories from his childhood. For ­example, when John was young he convinced his sister (my aunt) to put him in the dryer. He was hilarious then and continues to tickle everyone's funny bone. I cannot be near him for more than 30 seconds without bursting into laughter. He can easily make anyone's day a bit ­better. As I have hopefully shown with these ­examples, those with mental disabilities are more than our televisions make them out to be.

"Try Proactiv and you too can be beautiful!" Yet another miracle beauty product advertised on your TV, this one claims it can clear up acne in just days. As realistic as some of these ads seem, they are very unreliable. Do we ever see a person on one of those commercials who is ugly after they try the product, or someone for whom the product didn't work? Never, right? These ads try to put ideas in our heads that we will be beautiful if we buy the product, and many viewers buy products because they believe these ­commercials.

Nothing good can come from believing what ­commercials tell us – except disappointment and bad judgments. When your favorite TV show cuts to a commercial break, change the channel. Or try ­ignoring the commercials or finding something to do during the break. Then maybe we will all make fewer bad judgments about people and products.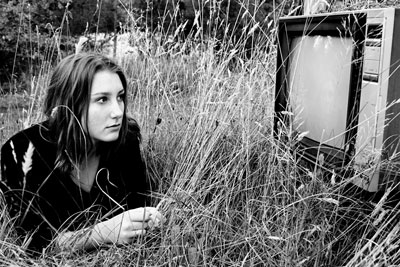 © Garrett M., Port Angeles, WA