Fighting Prejudice: The Hijab
January 19, 2017
Rashida, a Palestinian-American teenager, had spent almost twelve years in Detroit, Michigan surrounded by a large Arab-American community and attending a religious private school there. Even though she always wore the hijab, she was never judged or questioned. Things would take a sharp turn in her life as she relocated to a small town in Georgia and attended public school.
Moving to Georgia took an emotional toll on Rashida. She had deeply missed her close friends and affectionate aunts that embraced her identity as a Muslim teenager. They always shielded her from any sneering comments and prejudice. Now, she had to learn how to fend for herself while she faced sneering comments and prejudice. Moreover, the student body of the public school she attended was mostly white, so she barely had any friends to chat with.
One day, as Rashida was reading in the library, a boy came on to her and yanked her hijab. "That's what you deserve for having parents who are terrorists," the boy said, cackling. Rashida went home crying that day, promising herself to never wear the hijab again.
For a few weeks, Rashida went without wearing the hijab, having dyed blonde hair and blue eye contact lenses. Her intuition told her that it was fine to wear the hijab, but her brain was telling her that it was crucial to try to fit in. Later, she decided to wear the hijab regardless of any smirks and mockery received. For every smirk or racial comment received, Rashida would boldly tell them, "This is my identity and I'm proud."
Hijabs are not intended to show oppression. Instead, they are intended to prevent women from receiving dirty looks from perverted guys, sexual harassment, and verbal harassment.
Women also intend to use hijabs to receive respect from females and males alike. If women are given the option of wearing hijab in the workplace, they can be judged by others based on the personality and pure intellect, not on their body shapes.
Religion is a form of identity that is distinctive as it goes from person to person. We must learn to accept other religions, regardless of how we perceive their traditional values. We cannot assume that every Muslim is a terrorist because of what is being featured in the media. If we don't teach ourselves to stop generalizing, then we are violating our natural rights to life, liberty, and the pursuit of happiness.
Together, we can put a halt to the increased hatred that has developed in the US over the years. It's not only black lives that matter or white lives that matter. Let's make sure that all lives matter. Let's learn to embrace other cultures and unite as one. Together, we can make America stronger.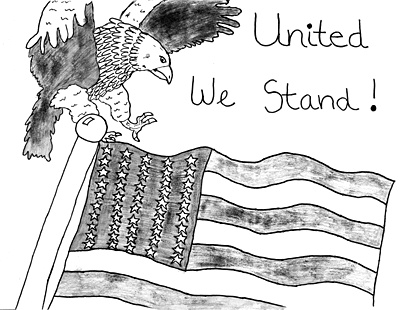 © Danelle D., New Ulm, MN