Orlando's Unnamed Victims
MAG
June 18, 2016
For anyone who owns a television or computer, it was impossible to avoid coverage of the tragedy in Orlando, Florida, at the beginning of the summer. And rightfully so. It was the deadliest attack on the LGBTQ community in U.S. history, as well as the deadliest mass shooting this country has seen, period. And it came at a time when LGBTQ rights have made tremendous progress. Sadly, on June 12, history was made for all the wrong reasons.
News stories about the shooting typically mentioned the 49 lives lost at Pulse Nightclub. Forty-nine lives in a world that was just beginning to accept them. However, there were more than just 49 victims. Fifty-three more individuals were hurt, suffering injuries both physical and mental. Countless family members, friends, and members of the LGBTQ community will never have the pleasure of being in the company of those 49 loved ones again. However, there were still more victims who went unmentioned by the media. This terror attack will have a lasting impact on LGBTQ youth who are not yet out of the closet. Coming out is a landmark moment in the life of an LGBTQ person. Now they must factor in the reality that 49 Americans like them were very recently killed for who they were.
This country seemed to be doing so well. The U.S. Supreme Court had finally legalized gay marriage, LGBTQ shows like "RuPaul's Drag Race" garnered millions of fans, gay and straight alike, and transgender icons such as Janet Mock and Laverne Cox had been spreading awareness of gender identity through talk shows and hit Netflix dramas.
This progress may have made the process of coming out easier. It's less scary to admit you are gay when you see gay icons in the media who are not only surviving but thriving and being celebrated. The Supreme Court has finally said your love is worthy of marriage.
The tragedy in Orlando, however, has the potential to force many back into the depths of the closet. Closeted individuals now have 49 reasons not to come out. Bigots have taken to Twitter to spout their homophobic beliefs, even in this time of tragedy. In one example, a member of the U.S. Marines posted a Snapchat with his gun pointed toward the camera and the caption "Coming to a gay bar near you." LGBTQ sexuality is seen as a target, and for many it may be easier to sacrifice their happiness than risk their lives.
We cannot let this happen. We cannot allow LGBTQ citizens to feel they have to hide. They should be encouraged to be who they are, as the most revolutionary and political act they can do is to exist fearlessly. Existing shouldn't be a political act, but the conditions of our country now have made it so.
We cannot let hate win.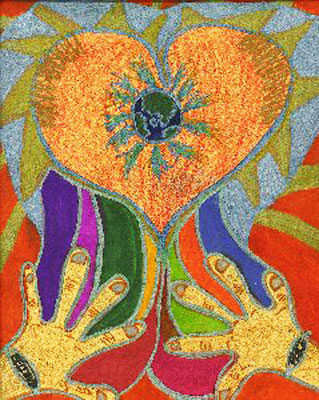 © Amanda P., Clermont, FL