Leggings
MAG
December 29, 2014
I walked down the damp sidewalk to my friend's house, stepping to the beat of my headphones. I was almost there when I heard a long honk from a car. It sounded broken and old, and when I turned I saw a man who fit the same description. The smirk on his face made my stomach turn and my feet stumble out of rhythm.
Sweetheart. Nice ass. His words followed me along with his car. I was 14. I walked the wrong way down a one-way street to escape his pursuit.
When I got to my friend's house I told her the story, almost in tears. I was scared. She laughed and said I should be happy that I already attracted attention, like it was a blessing to be followed by a man more than twice my age. She said I should have said thank you and moved along. If only she knew that my knees were shaking and my breath was caught in my lungs.
I tried to imagine turning and saying thank you to the man, his twisted smile and proud eyes gleaming as he leered at my body. I clutched the chair as my friend talked about how jealous she was. I wanted to leave, but I felt paralyzed by the idea that the man was out there, that any man or woman could be like him. We turned on the television and never talked about it again. But it happened again, then again, and again, each time flooding me with a mixture of shame and fear. I told myself that I shouldn't walk alone, that I needed a man with me, that my body put me in danger.
I realize now, but wish someone had told me then, that it was not my fault. That what happened had nothing to do with how I dressed. That my body did not defined me. That I have control. That I should not say thank you when people objectify me.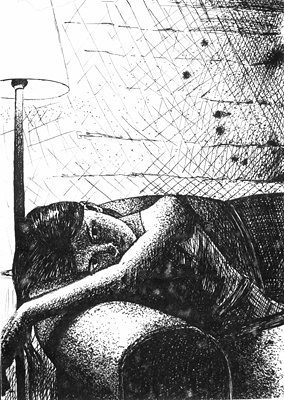 © Elisabeth R., Elmont, NY