Violence Against Women
January 5, 2014
"I remember thinking, acting scared, screaming and trying to run away...He shook me and said 'If you don't stop moving I'll kill you and no one will ever know'"(Handy). Sexual Abuse against women is a huge problem across our country today; 1 in 5 women in America have been raped or experienced attempted rape (Rabin). In 2006, 232, 960 women were raped in America, which is over 600 women a day(Violence Against Women). Often, social media gets too involved in rape cases, such as the one in Steubenville, Ohio. This can have a major affect on the victims and the outcome of their cases. Although there are many causes that need awareness, sexual assault against women doesn't receive enough attention as it should due to the fact that women are too ashamed to report it, there is a great sense of male superiority, and the media exploitation of women and more people should be aware of this epidemic.

In the US, a woman is raped every 2 minutes (wcsap). 62% of rapes aren't reported, and only about 3% of all rapists serve time in jail (rainn). This poses the question of why? Why don't women just report the crime and get the justice they deserve? Though, until one is put in such situation, it is hard to describe what a woman feels and what goes through her mind after being sexually abused. Women who have just been through a sexual assault are very vulnerable, and usually feel oppressed by their attackers. Women who are victims of sexual abuse tend to downplay what happened, and blame themselves for it (Glazer). In a poll put out by the website Mumsnet; a parenting website; in which more than 1,600 women were surveyed, more than half of the women stated that the media and society are insensitive to rape victims (Mumsnet). Many peoples religion's can also affect their outlook on reporting their attacker like this 14 year old christian girl, "I was convinced that I was as guilty as he was due to the religious teachings of my childhood. We had been told that if you didn't fight back when being raped then you were guilty of fornication. I did not tell a soul about this event until I was 20. I told my mother who told me not to tell anyone because 'what man would want me after that. She also said it would hurt my brother and my father too much if I told them. So I kept this inside for about 10 more years."(Strochlic). When rape cases are brought to court, not many of the attackers are convicted, only 6% of all rape cases lead to a conviction (Cooper). "The conviction rate for rape is at an all-time low. In 1985, 1,800 complaints of rape were made and one in four men convicted. In 2003, 13,000 complaints were made but only one in 20 was convicted."(Bindel). Also, the whole court process can be very self-draining for the victim. When being questioned about where she was or what she was wearing, it can make the victim feel as though they're at fault. Today, there are so many hurdles in trying to convict sexuall attackers of women, that it makes it nearly impossible to get the justice that these women deserve.

A root cause of sexual assault against women that dates back quite far is male superiority. The fact is, that it is implanted in many societies across the world that males are superior to females. Dating back centuries, the definition of rape was much different than nowadays, "Rape was a crime not against the victim, but against the man who owned her, her husband or father."(Stop Violence Against Women) . In other words, it didn't matter that a woman was being completely violated, it was just an act of disrespect towards her male guardian (Sexual Assault and Male Dominance). Such laws like this furthermore oppressed women and truly made them believe they were inferior to men. Even though presently rape laws have improved dramatically, like the The Violence Against Women Act (VAWA) 1994, which was created to fight domestic abuse, sexual assault, and other offences towards women (Laws on Violence against Women), (Foerstel). Unfortunately, we still live in a society where males believe they are superior to women, and in order to change that society must change as a whole. Recent studies have shown that ? of young men believe it is perfectly fine to force a woman to have sex if she has given him "the hint"(The Politics of Rape). They need to learn early on that there is much more to being a man than aggression and dominance, but that being a man is classified as being compassionate, ambitious, and accomplished. Society needs to change now, because no one deserves to live in fear everyday, "A woman should not have to live in a world confined by patriarchal shackles. She should not have to live in fear her whole life, making decisions based on a paranoid methodology of avoiding danger at every turn." (Russo). Many women live their lives in fear, because of the way society has shaped gender roles. Patriarchal societies give men the belief that they are superior to women, and thus is a direct cause of sexual abuse against women.

In this day in age, the media and social media can have a huge affect on peoples' opinions and the way they look at rape cases because of the way the media exploits female rape victims. In many news stories pertaining to sexual violence against women the stories are grouped in with the other crime stories, and not as its own segment. This furthermore undermines the seriousness of this issue by not emphasizing it in such a well-known place to get current information, like newscasts (Onyejekwe 32-33). Renowned actor, Patrick Stewart from the hit 80's TV show; Star Trek: The Next Generation; condones to the fact that the entertainment and media has a serious impact on the way we deal with stereotyping and violence against women. "The entertainment industry has been extremely irresponsible in perpetuating and stereotyping the violent attitudes of men to women," "I saw society - police, doctors and neighbours - conspire to hide the abuse," he said. "Violence against women diminishes us all. If you fail to raise your hand in protest you are part of the problem." (Lovell). Social network websites like Tumblr and Twitter can also harm rape victims, even after the whole ordeal is over. For example,the Steubenville, Ohio rape case, the attackers were found guilty of rape on March 17th 2013 (CNN). Yet the 15 year old female victim is still suffering from the hurtful tweets like this one, "Be responsible for your actions ladies before your drunken decisions ruin innocent lives." and there are still embarassing nude photos on Tumblr (Cleveland). There is a real lesson to be learned from cases like this one, social media is such a driving force today that it can make one's life miserable even after the court case ordeal is over.

Sexual assault against women is so preventable in that if more people were aware of the epidemic and if there were more advocates for the cause, it would help tremendously. The Indian, Delhi rape that hit the news in December 2012, left an imprint in many people's mind's across the world, "It connected with both the Indian public and a wider audience on a deeper emotional level. It left us shocked but even more determined to continue the fight" (Hunt). More stories like this need to be heard, to break the silence and to help fight this cause, because after all rape occurs every day. There should be more programs like the International Rescue Committee's women's empowerment and protection program, which provides health care and safe homes for survivors of sexual assault in over 17 countries, trains 2.5 men and women each year in ways to prevent sexual violence, and works to reinforce national and international laws against sexual violence and the exploitation of women (Women's Empowerment and Protection). Although the media is usually a big obstacle in this cause, we can change that and start to use the media as a way of getting the information out and spreading the word to raise awareness on sexual violence against women (Hunt). The general public must help to make the female victims of sexual assault know that it's okay to report rape, and it'll help break the silence of million of other women. Also, sexual violence is a real serious issue, and should not be a strict taboo, but should be talk about extensively. "However several studies have shown that women who were more highly educated (secondary schooling or higher) were 20–55% less likely to be victims of intimate partner violence or sexual violence compared to less-educated women."(World Health Organization). Even though sexual violence against women is such a big problem, the solution is just make the public more aware of associations like the INC and help educate the public on the issue.

In the world today sexual assault awareness doesn't receive the attention that it deserves. Often women are too afraid to report an incident or too afraid of their attacker returning. Also, there has always been this sense of male superiority which makes females feel inferior to them and a new issue has been the media exploiting female victims of sexual assault. Yes their are many causes in the world today worth taking part in, but taking part in the fight against sexual assault against women can save a woman's life and can help to end this epidemic today.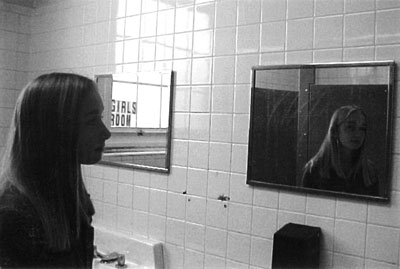 © Jill H., Pompton Plains, NJ