Confessions of a Working Woman
MAG
May 11, 2013
I doubt I am what author Sheryl Sandberg is picturing when she says she wants to empower working women. I am a 17-year-old high school student with a weekend job at a kid's party place. But I can still identify with most of what Sandberg writes in Lean In: Women, Work, and the Will to Lead. The book is centered around troubles that women face in the workplace and what they can do to combat them, but part of the book also talks about how men are pressured just as much as women to be the primary breadwinner in the family. It is an interesting perspective that recently I even saw in my own experience. So here they are, the confessions of this working woman.

The requirements surrounding my weekend job are not many; I have to wear some silly things, I have to always smile, and I have to ask people if I can throw away their garbage. Everyone has to do it, the girls, the guys, the really young workers, the workers you think will still be living in their parents' basement in ten years. Of course, for each party, employees have their designated roles, but things generally fall into a rhythm eventually and a certain task will stick with someone. Perhaps one girl is particularly good with customers, so she'll always work the front desk. Perhaps one guy is good with computers, so he'll be in back. Perhaps one girl is quick with cleanups, so she'll handle the food. Perhaps one guy is particularly strong, so he'll move the furniture.

Notice a pattern?

For a while I didn't either. It seems so natural and normal that no one thinks twice about it; and why would we if no one is complaining? Why create a problem where there isn't one, right? For most of human history that was the attitude surrounding women's rights, but the past fifty years moved us a lot closer to workplace equality.

Then why are the girls still catering to people and the guys still working with the technology and doing the "heavy-lifting"? Things clearly aren't equal yet.

Despite our progress, a female leader of any kind is still labeled as female, as though it were a rare thing. And sadly, in today's culture it is still relatively rare. And we still say "male nurse" or "stay-at-home dad" when we need to clarify that a man is doing a job typically done by women. These kinds of assumptions don't make us horrible, women-hating people. We are just products of the culture that has nurtured us. Luckily, we have the power to change that culture and eventually express what we really are on a mass scale.

I imagine one day not having to prove myself any more than a man has to in order to get a promotion, or a job at a top university. I, like the many working women across the U.S. and the world who have to showcase our achievements on a ridiculous level to outperform men, envision a culture that looks at me and sees a leader, not a "female leader." Maybe I want to work with the computers one day and maybe the guy working the computers wants to play hula hoop with the kids. And we both want to be able to do that without getting weird looks or unnecessary praise from everyone.

Equality shouldn't be shoved in people's faces; it should be an innate feeling that whenever violated is corrected. I want today's extraordinary to be tomorrow's normal, and not just for me, but for everybody. But what do I know? I'm just a working woman, right?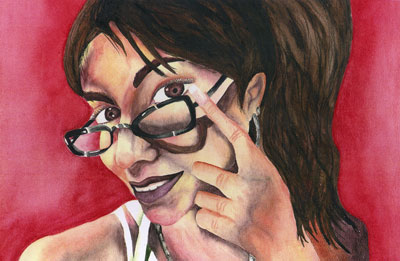 © Colleen P., Jackson Heights, NY