Turn Around, Don't Listen
January 20, 2013
We're teenagers. Loud, noisy, spontaneous people. We love breaking rules. Doing stuff we're not supposed to. Living out lives we know are never going to turn out great. But every pack of teens, has its runt of the litter. Somebody just different, somebody not fitting, somebody they all love to victimize. Somebody whose life and self confidence they're about to shatter.

Well I guess, that's enough introduction about me. Yep, that's me. The runt of the litter. The poor little girl. And the truth is, I've had enough. Enough of being victimized, of being backbited, of being used. It doesn't work out, you see, if you aren't pretty, or smart, or cool enough. So I give up. I give up trying to be someone I'm not. Someone I'll never be. And to be honest, it feels pretty good, to be me again.

Bullying? Me? As much as I would want the answer to be no, I must admit, yes. I've been bullied. Only in a different kind of way- backbiting. Backbiters-they're easy to spot- confident walk, relaxed attitude, grinning faces…that's them. At first, they may seem like friends you want to keep for life, but as sonn as you turn around, your worst fears come true, gossips whispered from ear to ear, rumours flying across corridors…your nightmare begins.

Backbiters and me. We've had a long history. They're hateful, they're spiteful, they're shadowy versions of themselves. They make you believe that karma doesn't exist. I feel guilty too, now. Trying to fit into the in group, I had started backbiting. Sneering at turned backs. Trying to please someone who never would be. After three – four nasty comments, some many slaps and crying till late nights have I realized the severity of it. It's not a cliché. It's like bullying. It's popular, depressing, and never ending. And, it is secretive. Most people never realize that they're being talked about, and they're the lucky ones. Obviously, I'm not.

Backbiters are nasty people. They think they're perfect, that they deserve the good stuff, and it works, thankfully, to all those people who trust them openly. They get to the top, with their dramatic and attention seeking natures. The only way we can stop them?

Speak up, people. I know who you are. You're people pleasers, like me. You want people to like you. Well, here's news-they won't. Not all. There are people, who push others down, to pull themselves up. There are. Because they want to be where you are. And the least we can do is to ignore them.

Those people, they treat people badly; they have treated me badly. And I want to show them, that they were wrong, that I deserve so much better. But I can't. Because in some corner of my mind, where it counts, they have become superior to me. And I hate them for it.

They've shattered my life, so many times. Yours, too. Into millions of tiny, tiny pieces. But together, let us pick these pieces up. Let us join them with a bond difficult- rather impossible- to break. Let us put together our lives again. For the sake of others. Because we? We're irreparably damaged. Misused. And only we know how badly we've been hurt. And only we know how well to hide it.

So, let's. Because the world needs more people like you and me.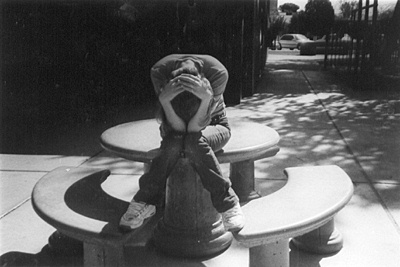 © Catherine R., Phoenix, AZ