Does the way that women dress affect sexism?
April 10, 2012
Imagine you are an upper class woman in the 19th Century. You have been invited to the event of the year: a grand ball at a fancy venue. The questions whirring round your brain would not be dissimilar to those in ours today. The first one, perhaps, would be what to wear. However, in this era it would be less of a question of what looks good and more, what is acceptable, appropriate and complies with the strict social dress code. A married woman was supposed to act as her husband's social representative. Therefore, a privileged woman must show off her husband's wealth through large, decorative hats and full-skirted satin gowns.

The way that women dressed greatly reflects how they were treated in society. Corsets caused distorted spines, compressed lungs, enlarged livers and misplacement of the whole abdominal viscera. Not only were corsets proven to cause health problems but they were also partially responsible for the suppressed lives of an 18th or 19th Century woman. Corsets and heavy gowns made it difficult for women to do many everyday tasks without assistance which perhaps leads to the dated belief that women were unable to cope with many aspects of life without the help of a man.

The 1940s saw a rise in the popularity of women's trousers that correlated with women's rights in society as women started to contribute to the war effort. The jobs that women did whilst men were fighting in the army could simply not be done in long skirts or dresses so not only were women breaking into a man's world as far as work was concerned but they were wearing similar garments to the opposite sex also. Although the war caused a lot of death, destruction and suffering, it changed a woman's place in society forever.

Due to international affairs being widely broadcast and an increasing conflict in the Arab World, journalists, news reporters and correspondents have to travel to foreign countries more than ever before. Certain developing countries are often strictly religious with a corrupt government. It is not uncommon to hear stories of British and American correspondents being raped in front of jeering crowds as their appearance was deemed "disrespectful" by both the male and female residents.

The suggestion that the way we dress causes sexual assault caused uproar when a Canadian police officer said that "women should avoid dressing like sluts in order not to be victimized." This sparked an international movement that precipitated female marches all over the world, known as SlutWalks. Women held up signs with slogans such, "Little black dress does not mean yes" and "Whatever I wear, wherever I go, no still means no."

The way that we dress is paramount; more so today than at any other point in history due to media excess. First impressions may not always be correct, but they are there nonetheless. The fashion industry is predominantly for women and by women so women's attire is speculated and judged more than men's.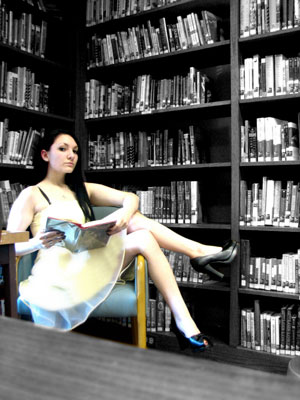 © Jessica F., Bradford, MA