Homosexuality And The Bible
February 10, 2012
Kaitlyn
So when they continued asking him, he [Jesus] lifted up himself, and said unto them, "He that is without sin among you, let him first cast a stone." John 8:7

I know that we live in the Bible belt, but the bible says MANY times not to judge others. Even if you think it's wrong you are to abide by: "And now these three remain: faith, hope and love. But the greatest of these is love." (1st Corinthians 13:13). Even if these boys are not abiding by the belief system you buy in to, it's not your right to persecute them. They have just as much right to make out as you do. If you want to argue that NO ONE should be able to do that, then argue about THAT, if not, move on and mind your own business.

Aaron
Although in the book of Levictus it says it is an abomination, and those that lay with a man as they would a woman shall be put to death... By the way, you're a bit late to the party....

Bryan
Aaron, it also says in Leviticus that it's OK to sell my daughter into slavery. How much do you think is a fair price for Kaitlyn?
Lev 15:19-24 prohibits me from having any contact with a woman when they are in their period of menstrual uncleanliness. Problem is, I don't know how to tell. Most women seem to get offended if you ask them.
I have a neighbor who insists on working on the Sabbath. Exodus 35:2 clearly states he should be put to death. Am I morally obligated to kill him myself?
Shall I continue? There are dozens of examples of very normal things that called for the death penalty back in Old Testament times. Just like Lev 18:22.
I know from Lev. 11:6-8 that touching the skin of a dead pig makes me unclean, but may I still play football if I wear gloves?

Chasity
Bryan you are my hero right now:) my way of thinking is if it doesn't affect you, stay out of it. To each their own beliefs! And btw, I'll give you a basset hound and a taco for your daughter:) jk Kaitlyn!

Beth
It also says in the OT that your rebellious son shall be taken to the village square and be stones to death.
*Stoned*
Kaitlyn, I would like your post ten times if I could.

Aaron
Don't get me wrong, I have no problem with gays. I have a problem with her using the bible to defend something that, in the same bible, is said to be an abomination and punishable by death. The examples you said are all improper comparisons to gay rights.

Beth
The examples we gave are to illustrate that people are picking and choosing what Biblical laws they wish to abide by.

Bryan
PLEASE, please tell me how that the examples posted are "improper comparisons". I can't wait to hear this.
The SAME BOOK of the SAME BIBLE that says that homosexuality is an abomination, says that eating shellfish is an abomination. How on earth is that an "improper comparison"?

Aaron
Homosexuality is mentioned many times throughout the bible. Your pigskin reference? Good luck with that one. The one about not working on Sabbath? At this day in age that proposition is ludicrous. Is would mean losing trillions of dollars worth of value from the global economy. With that said, it may not be the Christians fault they are missing the Sabbath. Their boss could be atheist, and if they didn't work there could be serious repercussions. God made it to be men reproduce with women. Men do not reproduce with men. Woman do not reproduce with women. That's as complicated as that issue is ever going to get.

Bryan
Aaron, please reread what you just posted and tell me if your logic makes sense to you. You are very clearly picking and choosing which Old Testament instructions are valid in today's world, and which ones just won't work.
And by the way, love and sex are not always meant to procreate.
It must be emphasized that, according to the New Testament, we are no longer under the harsh Old Testament Law (John 1:16-17, Romans 8:1-3, 1 Corinthians 9:20-21). The concern with punishment is now secondary to Jesus' message of repentance and redemption. Both reward and punishment are seen as properly taking place in eternity, rather than in this life. I say let God deal with others as you let him deal with you... anything else you are doing is judgment, which Christ clearly told us not to do.

Matthew
Aw. I love you, Kaitlyn. :)

Aaron
I hope you were just depending on me having a small vocabulary. Procreate isn't a very good word choice there. Ha-ha. Logic seems in check to me, especially since you don't seem to want to point to specific holes in my logic. Congratulations, you just lost an argument to a 15 year old.

Bryan
Procreate was the perfect word for what I was trying to say to you. When you said, God made it to be men reproduce with women. Men do not reproduce with men. Woman do not reproduce with women. That's as complicated as that issue is ever going to get." I countered that procreation (making babies) is not the only desired outcome of a loving relationship. Your statement seems to say that if a relationship cannot make babies, then it must be not valid.

Aaron
No. What I am saying, is that we are supposed to marry the person we love, then we can have sex and babies. If god supports gays, why doesn't he allow them the blessing of a child? If they have just as much a right to love as heterosexuals, why can't they have babies. I have no issues with gay people, I have issues with people that try to defend it through the bible.

Bryan
Kaitlyn never defended anything. Kaitlyn pointed out that using the bible as a weapon to control the behavior of others is wrong. God is about telling you how to conduct yourself, not to use religion to control who others are. Jesus changed the rules.

Aaron
Ha-ha. She never defended anything? Did you read the same status as I did? And who ever said I was a Christian? Nice try though. Have a nice night ;).

Sahara
(Romans 8:38) For I am convinced that neither death nor life, neither angels nor demons, neither the present nor the future, nor ANY powers, nor ANYTHING else in ALL of creation, will be able to separate us from the love of God that is Jesus Christ our Lord.
That is if you are Christian and you want to look at it that way.
Also, in the bible, it says no sin is greater than another. The act of being a homosexual is just as bad everything Bryan was saying about the shellfish and pig skin. That makes them a proper comparison by the way. ;)
The thing you (Aaron) said about ''Why didn't God bless them with the ability to reproduce.'', have you ever though that might be what adoption is for. As they say God works In mysterious ways. And maybe, JUST maybe that is an example.
And you don't like the fact people use examples from the bible yet you were the one who commented first, using an example from the bible.
Also your argument was much more flawed than Bryan's. Get off your high horse and walk around down here with the rest of us because you aren't as right as you think you are.

Aaron
First off, you realize you just wrote like 5 consecutive comments? Second, not from society's perspective. In case you haven't read the initial status, or my comments, or any of the other comments....
I am not a Christian. I am not a homophobe nor do I hate the gay community. The reason I commented in the first place was that you can't reference the bible to defend the gays, where it says numerous times in the bible homosexuality is a sin. I would seriously recommend you read all the comments, wholly, before you say my argument is flawed. If it is flawed, why can't you guys point to the specific parts. All sins are equal? Cool... Not sure where that one even comes into play in this one...
And where did I say I didn't like that people were trying to use examples to the bible? I disliked that he was using comparisons improper to homosexuality. On my high horse? Ha-ha. Ok. And adoption? Really you're going to bring that into this? You seriously may be retarded. I'm done with this status, unsubscribing. At least Bryan had good points.

Beth
In addition to the holes we could poke in your logic, we also could run your grammar and spelling errors up the flagpole of idiocy and salute all day long.
A 15-year-old saying he won an argument with a 40-something who has a Mensa-level IQ? Don't make me laugh. Aaron, do you even know what a Venn diagram is? Obviously you are unfamiliar with ad hominem arguments and begging the question. You have proven that.

Bryan
?"The flagpole of idiocy"...LMAO!

Kaitlyn
Just for the record......I never supported gays in my post. I said that you don't have the right to condemn them. I said that it is ok to believe that they are horrible people and are going to hell, but you have to love them in the process. I said that even though they don't believe the same way you do, you still have to respect them as humans. I said that you have to trust YOUR God to take care of it, in HIS way, in HIS time, not yours.

Sahara
Let's not use the word retarded improperly, Aaron. I'm sure my IQ is considerably higher than you, yourself, can count.

Aaron
This is face book, not English class. Sahara, I really hope that was a joke. I'm in the 99th percentile of sophomores and the 94th percentile of high school students. As a 15 year old. Just because some people aren't a nerd like you, doesn't mean that they aren't intelligent.
And I have asked a few times, so please, where are these holes?

Sahara
XD Calm down, don't get your panties in a bunch.

Kaitlyn
a) " her using the bible to defend something that, in the same bible, is said to be an abomination and punishable by death" I never defended anything.
b)"Procreate isn't a very good word choice there" directly contradicts "This is face book, not English class"
c) "First off, you realize you just wrote like 5 consecutive comments" completely off topic and not relevant.
d) "not from society's perspective" not what we are arguing, and society rules differ from region to region.
e) "you can't reference the bible to defend the gays" no one used the Bible to defend anyone, it was simply stated that you do not have to right to persecute them or judge them.
f)"where it says numerous times in the bible homosexuality is a sin" please give exact quote to back up your claims.
g) "All sins are equal? Cool... Not sure where that one even comes into play in this one..." it come in when you said that "The examples you said are all improper comparisons to gay rights." because all sins are equal in God's eyes then all of the laws in the bible (and people following them or not) are all comparable to each other, including Gay rights.
h) "I'm done with this status, unsubscribing" by the fact that you are reading this now, that is obviously a false statement.
Next time please read things for their intended meaning, not looking for the worst thing the author could have said. Please try to understand that some of your words can hurt, and that the intention of this status was not to start a debate. The point was to stand up for a couple of guys who are being treated like they are less than human. The only reason I posted this was because people are being cruel and evil in the name of Christ, but that's not what my God teaches us to, and sometimes, if your words are lead by Christ, you can show someone their wrongs, without ever confronting them or calling them names.

Aaron
Unfortunately, my phone still sends me a text with every new comment. I said the procreate things because I took it as a direct insult, him trying to come up with a defense all the while using incorrect words. Direct quotes from the bible? Google it. I'm on my phone, but you will find 5+ parts where it says it. And the g section? Learn to read and comprehend. You weren't using the bible to defend them? You said not to judge them followed by quotes from the bible. I don't know your definition of defense, but that falls under the literal definition. I was wrong on a few points, I'll give you that. I got caught up in the moment. But on most, I am right.

Kaitlyn
Did you "read all the comments, wholly, before you say my argument is flawed" My next paragraph fully explains away most of what you just said.
"a plea, essay, speech, etc, in support of something; vindication; justification" is my (and dictionary.org's) definition of defense.
If you say you are done, you can CHOSE not to respond because my God gave you and everyone else free will, and I promise I will not judge you for using your free will. I will not call you any names or talk about you later. I will not gossip. And I will continue to respect you as a human being, just like I do for everyone.

Aaron
So now you should see that your status does indeed qualify as defense. The last paragraph of your previous comment said nothing. I'm done wasting my time on this already-won pointless debate. I suggest you do the same.

Kaitlyn
Please, tell me what EXACT words that I used that appear defensive to you, because I can't find them. I will explain to you the intended meaning of anything I have posted if you will let me know which words you are basing your argument on.

Aaron
Then you're blind. Read the entire second paragraph. You say not to judge them and we have no right to persecute them. No, people don't have the right to persecute them, but it's not because of the bible.

And Mariam-Webster, an actual, published dictionary defines it as the act of driving away attack. Nice try though?

Emily
Wow Aaron, are you really that idiotic that you feel the need to go over and over the same points when clearly they have you beat? I mean seriously? You lost, so drop it.

Aaron
I lost? How is that? I have proven and disproven man examples, from both sides. The issue was homosexuality and her using the bible to defend it, when it clearly says what, yes, I have said many times. If you think I've lost, you're stupider than you look. I was admittedly wrong on a couple of things because of poor word choices, besides that, my point has been proven and supported. Nice try nerd.

Kaitlyn
I understand that you believe that "my point has been proven and supported" but we are telling you over and over again that it doesn't make sense, but instead you are deflecting that with personal attacks on our intelligence. It is traditional to provide further proof or explanation to back an argument that has been questioned. You need to continue to try to persuade your audience with logic and proof, rather than upsetting them so that they don't care what you have to say. Names and attacks only makes you look more ignorant.

Emily
Exactly! Kaitlyn for once in my life I agree with you! You, Aaron, should really, really look in the mirror before you judge others.

Aaron
Oh wow. Look at my comments. Look at the book of levictus. Hell research the bible and its stance on homosexuality. I have given many points for my argument, either you guys are blind or have comprehension problems. And when you "blasted holes in my logic" the only thing you did was point out that homosexuality wasn't the only sin and ridiculed some of my sentences. That is the only credible point you made. At all. If you really want to feel stupid on the topic of religion, I suggest that you look up the YouTube video "putting religion in its place". I'm not the ignorant one, that would be half you and your little "smart" friends' comments.
And look in the mirror for what? What would I be looking to? What are you referring to? Where is your "logic"? Where is your "explanation"? Hypocrites.

Kaitlyn
I would appreciate credible quotes, no one ever said "blasted holes in my logic" therefore you may not use quotes. I didn't say you were wrong actually, if you reread it. I just ask that you properly support your argument, that's it.
HEY! I didn't say that! You can't hold one person (Emily) responsible for my (Kaitlynl) comments. You cannot group us all together, just because you are in the minority does not mean you can strike out at all of us all at once with a broad attack, we are individuals who will claim our words and no one else's, please try to see us as such.
Oh, and you comment about Leviticus, we already took care of that one, if you are going to be stuck on that point (btw, not what we are talking about) then find a new source, please.

Aaron
I have, and I'm seriously sick of this conversation. The two of you that even made good points. I'm sick of supporting what I say and you guys choosing to say that I haven't. If I haven't supported my argument, you DAMN sure haven't supported yours, seeing as almost all of my first comments were supporting my argument, while you guys have offered no support for your own, because you're too busy ganging up on (unsuccessfully I might add) me to support your own. Good night. I win, Emily.
How did you "take care of" levictus? Please, tell me.
?1 Cor 6:9

Kaitlyn
I thought you were done with this conversation and that you win, so why would it even matter to you?

Emily
You lost Aaron. There is no point in continuing this conversation. You need to understand that. I know for a fact that Kaitlyn and I are not stupid or idiotic. You are afraid to be wrong and for you to take out your anger on us is wrong, and you call us hypocrites.

Aaron
1 Tim 9-10
?1 Cor 6:9

Kaitlyn
If the word homosexual appears in your Bible in either passage then you have a version that was written after 1946. Prior to the 1946 Edition of the Revised Standard Version, the words that homosexual had begun to replace in many modern versions included boy prostitutes, effeminate, those who make women of themselves, sissies, the self-indulgent, sodomites, lewd persons, male prostitutes, and the unchaste. Daniel Helminiak writes that "until the Reformation in the 16th Century and in Roman Catholicism until the 20th Century, the word malakoi was thought to mean masturbators" (What the Bible Really Says About homosexuality). Among the early Greek-speaking Christian theologians who condemned homosexuality the words malakoi and arsenokoitai were never used. When John Chrysostom (347-407 A.D.) and other contemporaries preached against homosexuality, they're not recorded as referring to these two passages, and likewise, when Clement of Alexandra preached on these passages, homosexuality was never mentioned (Christianity, Social Tolerance, and Homosexuality, pages 335-353.)
Thank you Mr. I can use Google. Did you even READ the verses?
Oh and you comment "If you really want to feel stupid on the topic of religion" is really hurt full, especially coming from someone who says they are not Christian. I promise you that I know more about the bible than most, ask someone if you don't believe me. I would not have said anything if I could not defend myself. I know what the bible says about homosexuality, but I also know what it was BEFORE people wrote in their interpretations. I appreciate that you are taking an interest though.

Aaron
Give me proof. Verify it. An article itself is not proof.

Kaitlyn
That's why I cited my sources. Look it up.

Bryan
The best argument that Aaron can come up with is to say that if you disagree with him then you clearly must be an idiot. So if you are an idiot, then your argument cannot be credible. Therefore he wins...
Aaron, go look up circular logic. Then look up begging the question. There is still a good opportunity for you to learn something very useful here.
Aaron, she cited a credible source. When it comes to religious writings, there is usually no proof. A credible source is as good as it gets. What is it you want her to prove, anyway?

Kaitlyn
Anyway, if you are not in fact "done with this status, unsubscribing" or "sick of this conversation" then by all mean we can continue it tomorrow, but I am going to bed. I do like that you are willing to have this conversation with me and us, honestly it helps me build up my knowledge of my bible and from now on I will know some possible questioners that may arise. It also proves that 1st Peter 4:13-17 really do apply, thank you so much for your help in teaching me to be a more prepared disciple for Christ.

Aaron
1 Cor 6:9 is by far my favorite. Homosexuals will not inherit the kingdom of god. And no, in that comment I referred you to a video. I strongly suggest you watch it. And how does that article prove anything at all? How does citing your sources help with proving something? I have no problem with Christianity, it's a great way to live your life. I have problems with Christians that think things are right or wrong based on the bible, especially if one is ignorant enough to defend something by the bible, while in that bible it says so many bad things about it. Its damn near hypocritical. I have problems with Christians that think the bible is what says what's wrong or right.
And really Bryan? I insulted Sahara and Emily, deservedly so. If I insulted either of you I am sorry. I don't get, however, how my argument makes no sense?

Bryan
Aaron, what bible are you reading? The Westboro Baptist annotated version??? The verse says "wrongdoers" in the NIV version and the ESV. Even the KJV says "unrighteous". Some other versions say "wicked". Even the list of offenders at the end has homosexuals listed last. What about people who have affairs? Should we deny them the right to basic civil rights?


Aaron
Look up the video, "putting religion into its place" if you guys are so big on logic and reason. Funny that god would give us logic and reason if his existence doesn't correspond with it.

Bryan
Aaron, you need to come to the realization that your disgust with 2 dudes kissing is not based on anything logical, it's an emotional response to what you were programmed with as a child. You try and try to bend bible verses into some kind of logic that its "unnatural", when the same bible tells you that it's basically none of your business and not yours to judge. Let God deal with the conduct of his children, you should just deal with your own.
Another thing you should consider is this. In this country we enjoy freedom of religion. You can attend any church you want, freely. You don't need Government permission or some silly permit. At the same time, you are free not to attend any church. Nobody from the Government punishes you for what you choose to believe or not believe. If someone is free to believe (or to reject) any religious dogma, then how can you use that religion to tell others what they can or cannot do? In this country, if your feelings and choices hurt nobody else, then nobody else has the right to punish or persecute you for those feelings or choices.
This is the absolute best way that I can bottom line it for you. I will not go tit for tat in an argument with a kid, especially one who has shown that he is totally unwilling to consider that someone else might have a valid point. I hope for once in this discussion that you will actually READ the words, rather than scanning a paragraph for something to react and argue about.

Aaron
I'll admit, you won most of this argument Bryan, not with much help. But as far as begging the question and circular logic goes, then Christianity as a whole is wrong.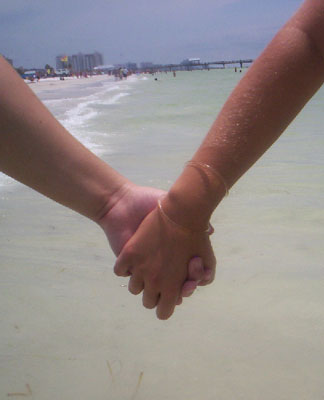 © Belinda H., Palm Harbor, FL