Violence the Silent Killer
December 14, 2010
Felipe is the child of a Russian cult. He doesn't like it, he wants to pretend that he wasn't, but in time everything has a way of revealing itself. He goes to a normal school in America as to not arouse suspicion and he makes friends. But one day a kid becomes jealous of Felipe and he wants to restore any respect he had. So one day he decided to find out more about Felipe, and he does, he finds out that he's a child of a Russian cult and decides to spread it. Felipe loses his friends and no one will talk to him, so he hangs himself. In other words, violence always finds a way to weave itself through everything.


Verbal bullying can be an issue, there was once a kid I knew named Tim, he was mildly autistic, I think, and he rode my bus and some kids decided to take advantage of that, they would say bad things and he tried to come back them, only to make him look like more of a fool to them, which prodded more bullying, I think he still doesn't, today, understand what was so funny, I felt sorry for him.


Another form could be physical, you know, punching, kicking, and more recently, guns. You heard a lot of gun violence in schools in 2008 especially. I know a boy that got picked on all the time, people would push him, and verbally abuse him, poor kid never got a break, he didn't tell anyone to stop and he was quiet and didn't seem to care, but I know he did


Currently we are in the age of technology, which only adds another category to bullying. Things like Facebook, Myspace, and whatever else people use these days. Which can also make it easy to bully without recoil. People die a lot, by their own accord,(suicide) because of it. I don't know a whole lot of people that've been picked on online, but teachers will show you videos as if everyone is bullied, of course, not everyone is, but they make you aware it happens. I don't know anyone that's been cyber bullied, but I guarantee it happens.


We need less violence, and less bullying all around. I don't know a lot of people who live in bullying, probably because I live in a generally safe environment, and maybe I do know people that've been bullied, but they're not going to say anything about it. ?Bullying is way to easy in the world of today. Maybe you know someone that's been bullied, but you know your not going to do anything about it. But if you can, and I ask you please try it, collect the courage and do something.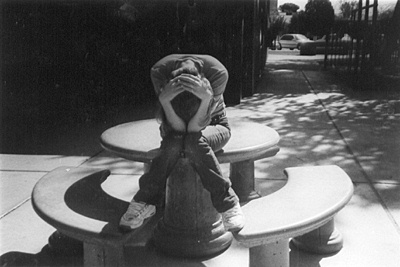 © Catherine R., Phoenix, AZ