The Image of Women
July 27, 2010
In the past 40-50 years the view of women has drasticaly changed, in good and bad ways. A good way is that we are no longer only useful for housework. Unfortunatly the media believes women have lost thier sence of self, meaning we want to take off our clothes at every possible moment. Well we don't.

There are television stations that I think presents women in a way that supports my idea that the media believes that girls from age 14 to 34 must behave in an inappropriate way. Shows that try to show style even support this. How? You ask; some television shows are based on teens who are pregnant or are parents. For women who are older, there is a show that supports showing lots of chest or bigger heels, and putting on lots of makeup. This show can lower the self esteem of many people, such as the people on them, or tell younger girls that boys only like physical features or a girl, not her mind. As I state this, I keep in mind that there is always some amount of physical attraction, we are human. The big problem I have with the other shows with pregnant teens is that it shows that it might just be okay to have sex at a young age, or that I could be on TV by having a child without a set relationship, a.k.a. marriage. In these shows it does acknoweledge modesty and how bad it can feel to have child so young, and I see that too, but most of the show is based on bad style and choices.

Television is not the only demonstation of loose women, music. I like alot of music, and rarely do I stop listening to a song because its lyricks are disturbing, especially when it has a good beat. The problem comes in when the singer uses 'bad' words to discribe a woman who dances so well it catches HIS eye. I believe it is wrong because instead of saying "wow that girl is beautiful, I want to be her boyfriend" they say, "D*** she's a sexy b****" Some girls like being called sexy, I know I do, however; being called a b**** is not one of my favorite discriptions. Name calling is not what I am focassing on, it is the way it is used so freely about someone the singer likes. If I want someone to be mine, I don't call them mean and horrible which is what I get out of witch. The worst part of music hurting the image of women is that women are doing some of the whipping. For instance, Ke$ha makes the best dance songs in my opinion, but some of her songs must give the message that most women aren't modest and will give it up in the back of a car and care more about the song playing than the boy with them.

There is a simple solution for us girls to act on, where the skirt an inch longer, the top an inch higher, and listen to Frankie's advice.

Younger women's images aren't the only affected by the media. Moms are now not only clean and cook, they are expected to also bring an income, look beautiful, be a chaperone to the kids and not go insane. I feel overwhelmed with school and sports, my mom must keep track of her activities and four other people's activities. This is partialy because the comman man is portrayed as a lump of meat with good muscles and hair, and the older they get, the more money they must make. They do not take care of the kids, they gambel a lot and barely know thier wife, if they want one.

In any case pressure has been put on women, pressure that was a man's. The pressure is builing and it is only a matter of time before women and girls crack.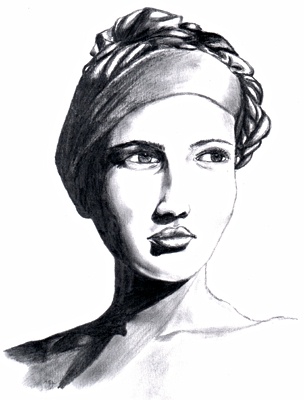 © Brynne L., Williamsburg, VA