A Call for Peace
MAG
July 17, 2010
"That whosoever killed a human being for other than manslaughter or corruption of the earth, it should be as if he killed all mankind, and whoso saved the life of one, it shall be as if he saved the life of all mankind."

– The Qur'an

With a statement like this in a holy text, who could argue that Islam endorses terrorism? Islam is rooted in the principle of unity; we are all one people. Unity cannot be attained without tolerance. In fact, when Mecca was occupied by non-Muslims, Prophet Muhammad forbade the desecration of Jewish and Christian symbols. He called for everyone to reach a peaceful reconciliation.

According to the FBI database, between 1980 and 2005, Islamic extremists committed six percent of all terrorist attacks on U.S. soil. Jewish extremists were responsible for seven percent. Left-wing extremists conducted a whopping 24 percent. Notice one thing they all have in common? They're extremists.

Muslims are excellent targets of prejudice. The attacks on September 11 are a good example. Scapegoats need to have some distinctive mark that differentiates them from the majority, and a woman's hijab serves this role perfectly. Even better that its purpose is so often misunderstood. The truth is, American Muslims were hurting just as much as everyone that September. We didn't understand what was happening either. We too were scared for our friends and families in New York. We were scared that we would be blamed for what someone else had done, someone who was going against what we believe but doing it in the name of our God.

Terrorism is not a Muslim thing; it's an extremist thing. Extremism comes from an ignorance so deep that it evolves into hateful fear. Extremism is living in willful ignorance, and this ignorance is what is transformed into violence. Terrorism has nothing to do with any particular faith, not Islam, not Christianity, not Judaism. Terrorism has everything to do with ignorance.

What I ask is that we all try to understand each other. Do not stare at me because you think my hijab is weird; instead, ask me why I wear it. I would love to know more about your beliefs too. We need to follow the examples of Prophet Muhammad, Jesus, or whoever your spiritual leader is. Open a dialogue. Stop throwing insults and bombs and dirty looks. We are all one, and we need to learn how to embrace that fact.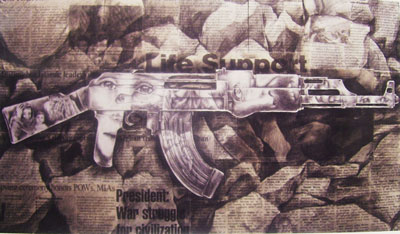 © Claire V., Lubbock, TX