Cedar Grove—Another Pleasant Valley Sunday
June 30, 2010
It was yet another uneventful walk through the hallways of my school…until I suddenly came face to face with an earnest Uncle Sam look-a-like, plastered on a large poster, with a finger pointing in my direction. "I want YOU to change the town," read the large, boldface print.

Closer inspection provided more information: "Joseph Chiusolo, mayor of Cedar Grove, feels that a town's name should describe more than the name of a tree. He wants residents of Cedar Grove, ages 10 and up, to propose a new town name that truly captures our community's spirit. All suggested names are due at Town Hall by Friday, August 13, 2010. A panel of judges, along with the mayor, will determine the best name. The winner will enjoy unlimited pizza from Esposito's for a year."

Within an instant, the answer came to me. Energizing electric guitar chords from the Monkees' 1967 hit song, Pleasant Valley Sunday, filled my mind. This musical social commentary is one of my favorites because it sarcastically portrays the true character of suburbia. A Sunday afternoon spin on my bike, breezing past cape after cape, most certainly presents me with a full-scale mural of Cedar Grove's provincial ambiance.

This panoramic view begins with "the weekend squire" mowing his overly fertilized, pesticide-saturated lawn, with "roses that are in bloom," keeping it manicured to perfection. The man mowing his lawn is not a true "squire"on weeknights, when he walks home, weary-faced, carrying his brief case, ready to plop onto his bed. However, weekends enable him to reap the true benefits of having his own parcel of land, by sending "charcoal burnin' everywhere" from his top-of-the-line stainless steel grill. Those two important days let him take pride in the ownership of his house, even though it is just one of many "rows of houses that are all the same, but no one seems to care."

As night falls, a bluish glow lights up the capes' picture windows. However, this radiance is not the result of a science experiment—it's just another Sunday night with viewers immersed, their eyes less than an inch away from that comical episode of Family Guy, or that new, action-packed Modern Warfare II game. Just as important as having "a TV in every room" is to the typical suburbanite, so is the yellow "Panther Territory" sign, marking the home of a Cedar Grove athlete and/or cheerleader, the trademark of "status symbol land." Most would consider this prestigious insignia the key to social stardom.

While almost everyone at my school desires to grab the top rung of the status ladder, what if all I want are real friendships? What if consuming charcoal-seared steak only increases our chance of getting colon cancer? What if a TV is only an idiot box to stare into, and gives no opportunity to think outside the box, go to your desk and draw a picture, or read an interesting book? What if I think the rows of identical houses only symbolize girls' need to have Juicy Couture bags slung over their shoulders, the Abercrombie moose stitched onto their jeans, or boys wearing football jerseys? What if these "creature comfort goals," really only "numb their soul," locking them into a conformist mentality that overpowers their true personalities? This yearning to keep up with the crowd makes "my mind strays to a place far away," to a more ideal, eclectic place. This "cookie cutter" mindset is not a phenomenon unique to Cedar Grove. Since Pleasant Valley Sunday reached #3 on the charts back in 1967, this proves that The Monkees were not the only ones who needed "a change of scenery," and neither am I.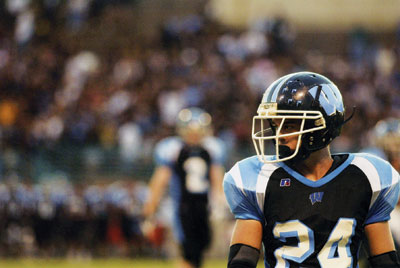 © Graham S., Bethesda, MD