Slashing Stereotypes
June 27, 2010
Do all jocks really earn nothing more than C's on their tests? Are all artists nutcases, who feel that getting high creates better art? Just because an individual may come across as ugly, does that mean they are bad news? Do all minorities receive public assistance and commit crimes? Do spiky bracelets mean, "Here comes trouble?" Are certain ethnic groups smarter than others? Are little girls weird if they like Hot Wheels instead of Barbies?

Although Americans are considered notorious for these stereotypes, a lot of biases exist in all countries, cities, homes, and even classrooms. Aside from a fishbowl, any place where different groups intercalate, stereotypes exist on some level. My middle school is a glaring example…

Ever since elementary school, I have never displayed myself as a conformist—from wearing camouflage to partaking in Yu-Ghi-Oh! duels. As the years zoomed by, classmates began stereotyping me for reasons people should be actually proud of. My eager participation in classes has most likely earned me nerd status, which is nothting to be ashamed of. Wearing short cheerleader skirts has never been my key to success. I would rather learn the Rubik's Cube, draw an abstract, or teach myself to play "Landslide" on the piano. My ambitions do not include acquiring Bebe Sport clothing or a jumbo Juicy Couture bag. Who cares if the popular crowd disapproves of my Alice Cooper T-shirt and Andy Warhol purse? On top of being a "different" type of person, some people feel that my below-par gym skills automatically grant them permission to harass me or just think less of me.

The list of stereotypes people may have about me—weird, nerdy, athletically challenged — have fueled my resentment and triggered the development of my own stereotypes about those who will not accept me. I sometimes assume that jocks' obsession with football and other sports automatically means their grades are below par. Anytime a girl with designer names stamped on her bag, clothing, and boots walks past me, I assume she is shallow and desperate for acceptance and popularity. While many boys and girls at my school may fall into those categories, the truth is, not all of them do. Perhaps they happen to like that style of clothing or have a real passion for sports, but they may even have some nonconformist tendencies of their own. How do I know?

Without getting to know a person, I cannot know. Just as illnesses such as cancer or AIDS eat away at a person's body, stereotypes are a sort of sickness, too. They wear down a person's character and make them blind to people's worthwhile traits, causing them to reject or even ridicule those, like me, who are different. They cause ugly prejudices and even world wars.

Eradicating stereotypes would enable us to see each other in entirely different ways, in the classroom and beyond. People of certain religions would not be persecuted or terrorized. Employers would see skills, not skin color or gender. So, is it strange for a little girl to like Hot Wheels more than Barbies? If you consider that a silly question, then you are on the road to change.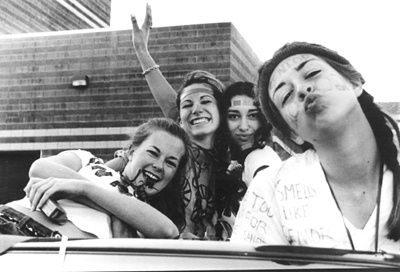 © Sara B., Marblehead, MA