The American Dream
MAG
"The color of my skin does not make a difference
becauseI will not give in.
The scars from my past will not make or break me because Iwill last.
The life that I live allows me not only to receive but give.
Idon't have to agree, but respect is key!
I will not hold a grudge if anothercolor gives me a nudge.
I find that my own race is the one out ofplace.
Never wanting to stand out, forgetting what brotherhood isabout.
The day that we are one is the day that we are done
with violence inour hearts,
No more tearing lives apart.
The "American Dream" isnot far upstream.
With not too much pride the human race will surelysurvive!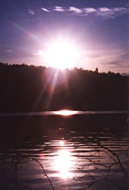 © Laurie T., Hopkinton, MA