Interracial Dating
MAG
"People tend to disregard the elderly. We think of them as frail, just shadows of theirformer selves. Some think of them as only caring about themselves, and theweather. We judge the elderly, but we need to learn to listen to them. I began tounderstand this fact when my grandmother became ill.

In the last years ofmy grandmother's life, she was bedridden. I was worried about her and begantreating her like a fragile piece of china. When people saw her, they assumed shewas a weak, hard-of-hearing woman so they would yell questions at her and speakto her as if she were a child. After observing my grandmother's responses, Irealized that her spirit was stronger than ever. Her strength was spiritual andmental, not physical.

The most surprising fact about my grandmother wasthat even though she was in a bed, she would always crack jokes. She had alwaysbeen opinionated about everything, and as I listened to her, I realized howimportant it was to continue our discussions about life and the topics that hadalways meant so much to her.

My grandmother's life shaped her as aperson, and her stories made me realize how important it is to have varied lifeexperiences.

It would be hard to know just by looking at her that my tinygrandmother had met the amazing Charles Lindbergh. We sent her a postcard fromthe Smithsonian with Lindbergh's picture, which brought back her memories andstories of this famous man that she then shared with us.

My grandmotheralso had an encounter with evangelist Oral Roberts. She could really get workedup about him, and let me say, it wasn't pretty.

My grandfather had workedin Wales for years, but my grandparents were forced to leave before World War II.My grandmother left on the ship with only the clothes on her back. She could tellthe frightening story of crossing the Atlantic as though it had happenedyesterday. She didn't choose to share her pain and suffering in this life, shejust chose to share her life.

When I'm older, I want to think about life,not my physical state. My grandmother inspired me to keep up with world eventsand what's going on around me instead of focusing on myself. I want to be alifelong learner with something of interest to talk about. My grandmother's lifetaught me that.

It is a mistake to judge the elderly because of theirphysical appearance. Their vision may be bad, but they have seen sights we neverwill. Maybe they can't walk, but they have taken paths we never can. They mayneed hearing aids, but they have heard the sounds of their generation. It istheir history.

I have learned to respect and embrace older people. Mygrandmother's stories have become my own. What if I hadn't listened? My memory ofmy grandmother would be only the physical body that other people saw. Therichness of her life and stories have enhanced my life. Her opinionated naturehas helped me to speak my mind.

The woman who appeared weak and frail isthe strongest person I've ever known. My memory of her represents every oldperson in my life. I know that my grandmother would find their storiesinteresting. I know that she would want me to listen to them. I do.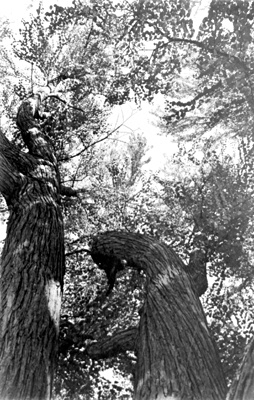 © Tim K., Marblehead, MA