The Beautiful Diverse
MAG
So much hate in thisworld,
Time,
Age,
Century.
Somuch death by so many people over the smallest fault,
Against them,
Theysee,
Theycannot tolerate.
Fear and shame haunt ourcities,
Towns,
Homes,
Hearts.
Thehearts of those not welcomed by too many:
Latinos,
Negroes,
Homosexuals,
The Beautiful Diverse
For being who theyare,
What they are,
Why they are,
Where they are
In our highsociety of lip services of tolerance,
Love,
Peace,
Community ...
Hypocrisy.
For unto those diverse we force hate,
Anger,
Slander,
Prejudice,
Pain.
From the bigots of ourmetropolises comes
Hate,
Torment,
Ruin,
Death.
And intogreat hearts we high beings plant the seeds of shame,
Fear,
Despair,
Self-loathing horror.
A kind of hate that clings to one's brainsapping,
Ripping,
Screaming,
Probing,
Agonizingly real andunshakable as the flesh and blood that bind us.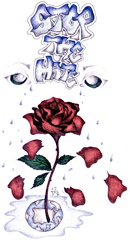 © Diana G.,Phoenix, AZ