At Cici's Pizza
MAG
"Wow, baby it's starting to get chilly," my boyfriend Sean said as we pulled into our favorite pizza place. "Come on, I'll race you to the door," he shouted.

I jumped out and started running toward the illuminated doors of Cici's Pizza. Hunched against the cold, my head hanging low, I ran right into my boyfriend. We hopped onto the curb in a fit of giggles, arms wrapped around each other. He opened the door and we walked inside.

We took our hoods off and looked at the long line. Glancing around the restaurant, I saw everyone staring at us. I stared back, used to it. I turned and nuzzled my face in my boyfriend's arm.

The white-haired man and his bottle-blond wife in front of us stared at us for what seemed like forever. Then they whispered, "Teenagers. Like that will ever work." I opened my mouth in objection but was shushed by Sean.

"Why should I be quiet? Just because I'm Asian and you're white, they don't think we're gonna work out," I responded.

"Yeah, well, if you don't keep your mouth shut, you'll cause a scene and we'll get kicked out. You want to eat, don't you?" he asked.

I sighed. I knew he was right, so I chose to ignore it. Maneuvering between all the tables, we picked a booth near the back with a view of the sidewalk and parking lot.

My seat faced a cozy family with three kids. They stared at us as we slid into the booth. Not even five seconds later, that family that had been comfortably eating their meal decided to move across the restaurant.

I gave Sean a look and asked, "Is it a coincidence now? We get this everywhere we go and I'm tired of it."

"No, it's not a coincidence, but we're gonna have to deal with it. Let's just grab a plate and get something from the buffet," he suggested.

I followed Sean with my hand in his. Every table we passed on the way to the buffet stopped talking and gazed at the side show. The nerve of these people, I thought. At least be a little discrete if you're going to gawk. Right there in the buffet line, I lost my appetite.

I walked back to our booth with only a tiny salad on my plate. It seemed like all I could stomach. I watched my boyfriend make his way back and plop down. He looked at me with a frown.

"You don't wanna be here anymore, do you?" he asked.

"No, not really. Not with that ignorant couple, that cozy little family, and everybody who keeps staring at us," I replied.

Sean stared down at his food with a sad look and said, "Okay, Sweetie. We can leave because I know you're not gonna be comfortable until we do." I smiled appreciatively at my boyfriend.

On our way out, a group of teenagers got really quiet and started giggling as they pointed at us.

"Oh, don't let us stop your intelligent conversation about getting high. No, keep talking," my boyfriend snapped. We pushed open the door and walked out into the chilly night.

"Well, I'm still hungry. Where do you wanna go now?" he asked.

"Let's get something at the store and eat at home. Nobody will stare at us there," I answered.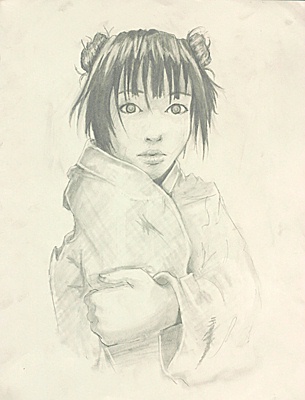 © Emily H., Port Charlotte, FL