Max
MAG
      I was an only child for the first three years of my life. I find it hard to imagine what my family would be like had I always been an only child. Many people have younger brothers,those annoying little boys, but most don't have little brothers like Max. Two years after he arrived, something unexpected happened: Max was diagnosed with Pervasive Developmental Disorder, or PDD, an autistic disorder. Max would never live a normal life. My parents were told that their son might never communicate either verbally or nonverbally. They were devastated, though I do not remember any emotional turmoil in my house. It must have been heartbreaking to have to categorize Max and me into "the autistic one" and "the normal one."

In fact, when I was given the opportunity to write about him fora book of stories written by siblings of autistic children, I titled my piece "Max, The Autistic One" since I couldn't come up with anything better, and at seven I thought that sounded dramatic. As for the piece itself, well, I sounded like a brat: "I have this little autistic brother named Max. And he doesn't know anything at all. Well, some things he knows, like speaking, and he knows his alphabet and numbers. I can't stand that he's autistic!"

I guess I made that clear. But it continues:"What I figured out from him is that he loves me and that he wants me to love him just as much. I would like to trade Max in for an ordinary four-year-old. I hate having an autistic brother because he doesn't play things I like to play."

I didn't know that an "ordinary" brother might not have played the things I liked to play, either.

"If I had an ordinary brother, life would be easier. Max listens to me, though, and he plays with me. But I hardly ever, ever like him. It's hard having a brother like Max."

So, according to my own words,Max didn't do things I liked to, yet he still played with me.Reading the piece again after so many years, I realize that I probably resented Max's being different and in my immaturity blamed him for it. It hurts now to think that I felt like that. Some"normal" child I was. Max would never have resented someone for being different - he might point it out, but not in a mean way. He's innocent and inquisitive, and doesn't carry the silly prejudices and resentments "normal" people do.

"Normal" sounds so ugly. Since Max's diagnosis, my family has questioned what normal is and accepted that indeed, we are not normal. Our lives are not normal, but we go on living. My mom once told Max's aide that "our life is improv" in that we always have to react to what Max says or does to make sure that he doesn't offend people or attract negative attention. His tendency to speak out in his naturally stentorian voice about whatever he feels has earned him the nickname - and I came up with it - "Call Out Boy." (He hates it when I call him that.) Whether we have to try to keep him from staring at the girl who only has one hand in the elevator or the very short woman at Wendy's(actually, we couldn't stop him that time and he observed in childlike wonder, "You're just a peanut!"), we are improvising. As a result of being around such an unpredictable person, I have learned not only to take what life brings but also to communicate with people effectively by keeping them interested, as I would Max.

For two summers I volunteered as a teacher's aide at a school program. All the students were learning disabled and had difficulty paying attention. I knew I was making a difference when I coaxed a shy girl from her shell by drawing Spongebob Squarepants characters with her. I tried to figure out ways to teach them so they'd understand but have fun too. I learned this from engaging Max in conversation for so many years even when professionals were convinced he could not communicate. We used to sing the theme songs to cartoons and imitate Bugs Bunny and Daffy Duck.

Because Max and I were together all the time and he talked to me more than anyone else,I became his interpreter. He was in his own little world, a secret club that he let only me into. When Max talked and my parents didn't understand, I would explain. I am worried that Max may be lost when I go to college, and he actually told me that I need to go nearby because otherwise he will miss me.

I don't know what the future holds for Max or my family, and I won't lie - thinking about it depresses me. The future is terrifying. All we can do is live each day and fight each battle in Max's world.

In "Max, The Autistic One," my bratty younger self is redeemed at the end:"I sort of like Max because he's the smartest autistic in his class. We play school with my dad. It is fun. We color and do crafts and it's like real school. I hope Max will turn out to be a very smart person when he grows up. I want Max to be that way. I wish and pray for it."

I also redeemed myself by saying that I "sort of" liked Max and that I took lots of positive steps with my family against autism. Max "played school" six days a week with therapists trained in a technique that's very successful for teaching communication (though at the time it was believed to be a negative therapy). Thanks to this, and everything else my parents had faith in, Max has been fully included in regular classrooms with the help of an aide. My family really did get much farther than the dead-end we thought we were looking at when Max was first diagnosed. Without Max, I don't think I'd be a better or a happier person. In fact, I feel blessed to have had the experience and to feel well-prepared for whatever I do in this world. Maybe I can even make a difference for others, somehow, in the way that Max has made a difference for me.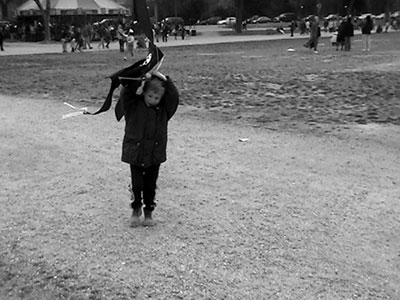 © Nina S., Arlington, VA