The Locked Stall
January 17, 2009
Enter the ladies room. Finally! You're alone. No one else is with you and you enter the stall. You have to do it after all that food. After some stimulation you can feel the vomit coming and you let it run.

This is what millions of young women across America are doing to reach the "perfect weight". We criticize them and laugh at them when we hear things such as "...just one stomach flu until my goal weight" on the Devil Wears Prada, or laugh when we see girls throwing up in Pink's music video, "Stupid Girls".

But if people actually cared, why are the only girls on the cover of Vogue or Cosmopolitain bone-thin stars? Why are plus sized models in the last few pages of a magazine, if there at all.

If we want anorexics and bulomeics to stop the dangerous things they do, making fun of them is not the way to do it.

The way we do it is removing the sexist images of society, talking to girls at young ages and giving them self esteem, and letting the concerns of young women with these problems be heard.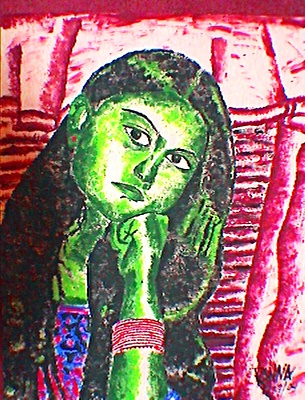 © Ranna C., Monmouth Junction, NJ