Best of Both Worlds
May 27, 2009
"Live Your Life", this may seem like the usual cliché many people use daily, it is the same phrase popular clothing brand American Eagle uses in its marketing to promote having fun and being yourself while you have the opportunity to. Reflecting on the title, you may think to yourself, Best of Both Worlds? What are these two worlds he seems to be getting the best of? From day to day I look at my life and realize that I indeed do get to view, at school, first-hand how some promote the stereotypical African American's way of living, living his or her life through Rap music, if that is what it should even be called, mentally retarding each other in a cycle of academic carelessness, while the other world I am constantly involved in, first-hand, being surrounded by the love for exceeding, prospering, standard English, and so on.

As I sometimes wonder when will there be a time when someone as I, a black male who mostly speaks standard English, dresses normally in my opinion, which some may refer to as "preppy", also a black male who has never, absolutely never used "The Man" as an excuse to not mentally, physically, and fiscally elevate himself, to be accepted by some of the people of his race. I know that being accepted by everyone should never be someone's goal in life, but I, as a person feel that I should not be judged, looked down upon, and to be honest, viewed as a trader. I have encountered many times when I have been given awkward stares by people of my race, looked "up and down" upon, I should not have to go grocery shopping and Harris Teeter, or Bloom to avoid the ignorant treatment I regularly encounter at other places such as Food-Lion simply based on my so-called Eurocentric lifestyle. I should not have to feel like I have to shop at Target instead of Wal-Mart in order to avoid the ugly looks from a stereotypical black person that may be shopping there. Lets be honest, the places in which I have named, have two totally different atmosphere's in which again, I have both lived. Two totally different types of people from all races, black, white, Hispanic and so on.

As you all may know, my place of employment is Abercrombie & Fitch as a Brand Rep, a place where standard English is…standard. A place where the dress code is casual, everyday attire, it is also a place where I have found other black teenagers who deal with the same problem as I. Recently, a manager and I were both in the front of the store talking, seeing how most of the other black teenagers there walking around wearing jeans on their knee's, how everything that came out of his or her mouth was pure gibberish. While at the same time feeling that they get discriminated against solely as a result of being a certain race. Which is not always the case, there have been many occasions where I have been treated a thousand times better at a place of business majority populated by another race, such as white, than a place majority populated by lets say blacks. As we talked, the manager who I might add was white, told me that I was "normal", I then asked her "What do you mean by normal?" she then adds "You are like a regular person, you speak regularly, you dress like you care about yourself, you know?" I then thought, a person of a different race, a person who most likely was raised around standard English, standard everything, described me as a "normal" person. It made me think that the problem was not me, I was not doing anything wrong, I was being myself, but hearing and seeing the constant criticism made me believe something that was not true about me.

It makes me sad that in the world there is a group of people, a group of people who can not accept change or something different, or something that the rest of the world views as standard, even though that is what they voted for, unless they voted for a race, not change. I sometimes think what if this group of people stepped up, socially, mentally, fiscally, and lastly politically, what type of excuses would they have for not being the person everyone has the potential to be. What type of excuses he or she would have to make others feel sorry for them, what type of excuses would they have for their already established excuses. I have no sympathy for those who do not try, those who do not have the mental capacity to realize that there are people out there, people of the same race as them, who are different then they are, at least to them, others who care about their future, others who care about how he or she may present their self's to people, especially to those who are professional oriented Americans. As I constantly remind myself to "Live My Life" I will always remember that in order to have things you have never had, you have to do things you have never done, in this case it is to leave those behind who wish not to be taken.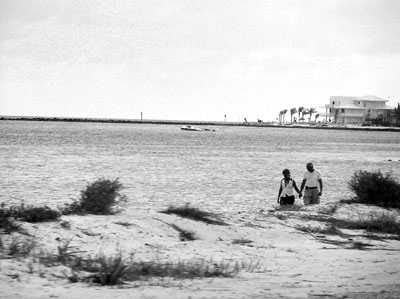 © Edgard B., Coral Springs, FL