Important Person
May 20, 2009
In the 1950's, Canton, China, didn't provide many people with much. There weren't high paying jobs, fancy restaurants, shopping malls, or even a nearby grocery store. Although in reality, it's opposite of that; with one day of hard labor rewarding you ten cents and if you were lucky the government would throw in a basket of corn to take home for the whole family. Family members wore one set of clothing year round having to be extra cautious to not tear a rip in them. Even though Canton was a very poor region, many people tried to make their living the best out of what they were given. Among the many growing up in Canton, it provided my grandmother with a beautiful and difficult life.
Old, wrinkled skin, damaged from the sun. Now that I have grown a lot since I was younger, I have to look down at her when I talk. Wither her head up to my chin level, she gives me a reassuring smile that life is not as bad as it may seem. She grabs my hand, giving me a feel of her hard cracked skin on the outside surface from hard work in the wispy fields of Canton, China. Her short, black wavy hair has strands fading black to grey. While cute hand made hair pins are secured delicately in her hair, they never fail to pull out the youth in her.
Despite the challenges coming to America, she is full of life. Canton was a very poor region in China around the 1950's, which made growing up not as luxurious compared to life of today. Many Easterners, such as my grandparents, made their living off of farming.

Many Easterners, such as my grandparents, made their living off of farming. Farming had its ups and downs. It was a huge responsibility when you were given the chore to watch the cows. One day my grandma was given this opportunity. The cows were lazy on that gloomy day after it had been raining hard all night long. The mild breezy air gave off a muggy, stuffy feeling, while the odor of the cows added a bitter smell. Fresh early-morning dew overlay gently onto the mist like grass. My grandma shouted for the cows to move along, as her eyes grew wider each second with frustration. She became tense as sweat dripped down the side of her cheek, for she did not want to fail at her given duty. The cows didn't like the remarks one bit but carried along chewing on their tasteless alfalfa hay. My grandma grew frustrated, making her way over to the herd of lazy cows lying disobediently on the ground. As she approached them, she angrily kicked one, clueless to the fact the was a move she would regret making. She had kicked the cow's limb with all of her might and the cow still didn't budge. The pain trickled and beamed fiercely around her big toe. Looking down at her left foot, she had dislocated it. Her bone was bulging out to about a 45 degree angle. Other girls overlooking from the top of a hill nearby had seen what she had done. They quickly ran down towards her shouting and laughing at how foolish my grandma was to think she was tougher than a cow.

During the beginning of my grandparent's marriage, there was a revolutionary war going on in the country. The poor had fought against the rich because of the money issues; it corrupted the minds of people, where the ones with less became more money hungry. The poor thought it was unfair because life was a struggle compared to the wealthy. My grandma had 5 kids at the time. My aunt Sue Li, Sue Hue, Su Mei, my dad Tie Jun and my uncle Qi, were given strict rules to go to school and them come straight back home. Given the strict rules didn't do so much for their safety because the old style one story building wasn't just around the block. There were no buses or cars that could easily provide the transportation. Every kid had to either walk or ride their bike across the vast dry land for 45 minutes to get to their school. When walking back home, they were to walk together and no one was to wander off, just in case anyone decided to attack them. On top of this war, the Chinese government introduced the "One Child Policy."

In 1985 my grandparents were given the opportunity to come to America. It was finally time for a change to start a better life as many people in China patiently waited for this amazing day. "Going to America is like going to a gold mine," my grandma recalls hearing from hopeful villagers. Through a life of turmoil, most would live their life feeling pessimistic, but my grandma never takes anything for granted as she puts everything in the past and continues living her life as best as she can.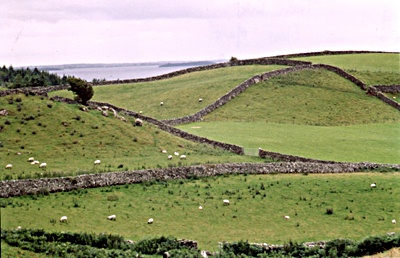 © Eileen M., Milford, CT