Feedback on When I Close My Eyes in Class
April 24, 2018
When I finished reading Alexandra K's piece, "When I Close My Eyes in Class," I was, well confused. In the essay, Alexandra talks about how sometimes, she cannot focus, and often gets distracted. I, at first, was interested in what she had to say, but as the story went on, I did not like it so much.
I originally thought that the piece would be about how teenagers can feel like they are not really, there, and maybe need to take a break sometimes. This, I would have read and maybe even enjoyed. However, as I read more of Alexandra's work, I felt that she was just making excuses for being distracted in class.
One of the things that bothered me most was when she said that sometimes, she didn't pay attention because she was not interested in the subject. I think that this is not a good mindset when going through life. Everyone has to face things that are boring, whether it be in school or at a job. Feeling like something isn't interesting is not an excuse to zone out and daydream.
The essay, overall, seemed a bit childish and did not possess much substance.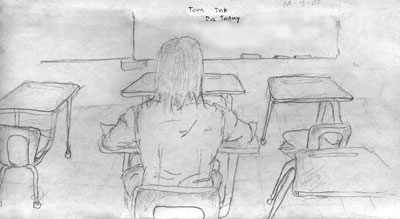 © Christopher M., Dededo, GU