Feedback: The Sink
November 14, 2017
"The Sink" is a fiction piece by Stephanie O. about an actor-in-training and her struggles with understanding the nature of acting. Morgan, the girl, argues with her teacher, Sandrine, about the necessities to being an actress. Morgan is in the acting for the stage and bright lights. She likes being on top of the audience and the center of attention. Sandrine, however, is trying to explain to Morgan that acting is also about the emotion conveyed - not only pretending to feel it, but actually feeling it. She tries to illustrate this by using an exercise: find the similarities between a sink, and yourself.

Morgan will not have it. She thinks that performances are supposed to be "fake," and "anyone who buys into it is a fool." The story then begins to explore her relationship with Sandrine and an incident that had occurred with her father. At the end, though, Morgan reflects that the "real acting chops" meant being able to hold in your emotions, and not let them shine through.

This conclusion was exactly what threw off the entire piece. "The Sink," throughout, was hinting that Morgan was making invalid and illogical arguments to support her point; that she was overthinking and being overly emotional. However, this last statement is presented in a way that implies that it was a logical piece of reasoning. This counterbalances the entire story and leaves the reader confused and unsure of what exactly they were supposed to get out of it. "The Sink" was an unclear and confusing piece of writing that gave out too many messages without confirming which one the author was trying to impress upon the reader.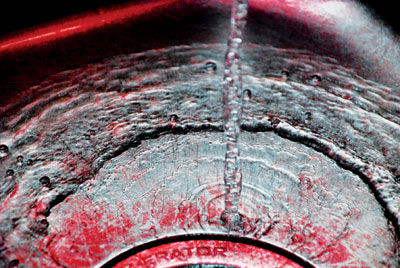 © Hannah B., Princeton, IL