A Harvest Moon
October 25, 2017
"A Harvest Moon" by Emily M. is a poem that describes how the harvest moon is so unique and fascinating. Emily talks about how the moon rises and gets bigger and brighter. She also mentions that the fall equinox is approaching and the color of the moon is changing from red to light orange.
This poem reminds me of when I saw the harvest moon during the month of October. I remember seeing how big and red the moon looked just like she describes in her poem. I really like how the poet says:

" A sign that the autumn equinox is approaching
Equal darkness,
Equal light"

This phrase in the poem means to me that Autumn, cold weather, and Halloween are coming. This is a wonderful time of year as the seasons change once again and new adventures can happen.

When reading this poem "A Harvest Moon" the last line stood out to me.

"A Shining star in the sky sharing its light with everyone". This closing line stood out to me because it helped wrap up the poem. I found it to be a strong line as it shows the importance and intensity of the moon and its mysterious powers it has over people.

I feel the same way as the author when the harvest moon approaches. She describes the event in great detail that I can picture the whole event in my head.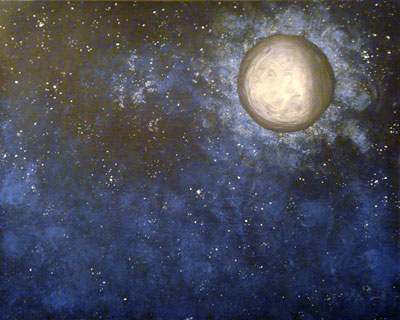 © Allison H., Vancouver, WA