Feedback on "Asphalt and Ire"
November 13, 2016
I was very moved by the piece "Asphalt and Ire" by Kyle Radant. Fortunately, I can't relate to being hit by a car, (although I've come close to it a few times). However, I know the anger and hatred the author felt in regard to the woman who had "struck a child with her car," and had the audacity to "hold her middle finger aloft as she fled the scene." How do you not have a moment of wishing terrible things on such a horrible human being with such a complete "lack of empathy"? I have never actually wanted someone to die, as the people I've felt so incredibly mad at were nowhere near as bad as a hit-and-run driver, but sometimes my rage scares me just as it scares Kyle. He says that "for a moment, I was not me," but the thing is, I believe it is me, and that's what's disturbing.
That's why I love his message about not becoming like the evil you're trying to fight. That only puts more negativity into this world, and solves nothing. As the writer says, "I cannot allow her to steal those human qualities I value in myself simply for the sake of revenge." It would be a horrendous shame to let these kinds of people, and our feelings towards them, overcome us.
I also understand why Kyle hates cars so much. The number of deaths and injuries they cause, and what they do to the environment, is reason enough to feel unfavorable towards them. After having such a pitiful experience with one of them, I can see why he would love to see them all gone. Inanimate objects can remind us of past experiences, and in some cases, the vices of humanity, and ourselves. When Kyle sees a car, he is seeing his worst enemy: hate. There are two sides inside of us, one who would be very pleased with eternal suffering, dwelling on past grievances, and the other side who would rather us rise above the malice, and move on with our lives. We must always choose the latter.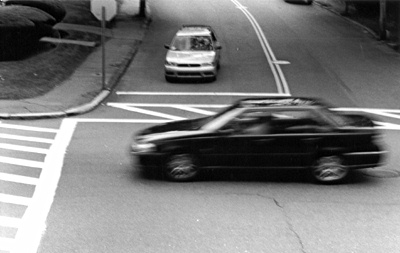 © Ed J., Marblehead, MA