Speak
January 3, 2013
While reading Erika K's review of Speak I found myself staring quizzically at the paper. Her references to this book being almost inspirational were quite different from my opinion of the novel. While Erika did capture many aspects that I understood and somewhat agreed with, I saw others to be exaggerated. Contrary to the review, I found Speak, by Laurie Halse Anderson, to be just an okay bildungsroman with large themes that couldn't hold up.
Anderson's book is unique in its own way. It contains themes that are huge in comparison to many other novels-grave issues that we face in society that rarely any other young adult books include. Unfortunately, this distinction was its greatest fault; I personally didn't find the theme to be motivational or inspirational at all. Even the setting of the story didn't seem realistic to me; school appeared to be the clichéd setting where students were evenly split into cliques and were bound to each one. In reality, there are always different groups of friends, but it's rarely so divided and clear as to who your friends are and your boundaries in respect to your "status" as it seems to be in Speak.
Perhaps the most peculiar aspect to this book is the description of Melinda, the female protagonist. I understand why Anderson may have depicted her as she did, but I still thought that Melinda and her peers were "dumbed-down." The experiences they faced were definitely serious, but their actions didn't seem to fit their age. This frustrated me greatly as I read the book, but the worst part about the characters was that both sexes were portrayed poorly. Girls seemed over obsessed with appearances, relationships, and popularity, while guys seemed to be numb and shallow. Even as a boy, I wanted to see the strong, but kind and intellectual personalities girls have and I was almost offended to see that they were just the opposite.
Although I completely agree with the themes Speak contains, the form in which Anderson attempts to do so failed to make me like the book the way Erika did. I understand why she felt the way she did about this book, but I hope to have pointed out the things that Anderson didn't really accomplish well. Although I do not necessarily believe Speak is a great book, I would still suggest readers to try it; it does speak to many, but I still found it to be average.

P.S.- The protagonist of Speak is Melinda, not Melissa as used in the review.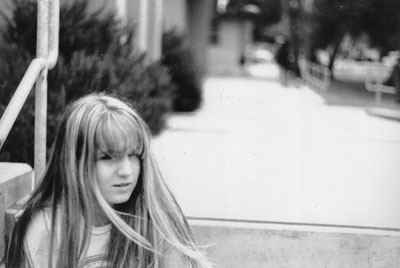 © Alyssa R., Pacific Grove, CA