Like Kindergarten
September 23, 2011
It was last week when I skimmed through Teen Ink and stumbled upon Elyse S's poem, "Like Kindergarten". Pperhapsit was out of sheer curiosity, or pperhapsit was a small twang of nostalgia that I had read this piece of poetry. Either way, I was enchanted as Elyse's words reminisced over childish days. This brought a question into life at the back of my mind…. Do you really remember? Do you remember the days when the cool kid was not the one who wore the most expensive clothes nor the one who seemed everything, but simply the one who had a good amount of "colors" to draw with? I highly doubt it, for it is but second nature to abandon such childish thoughts. To most, it is just foolish to even consider such juvenile notions. To most, all that really matters is …
A. Are you beautiful?
B. Are you rich?
C. What is your sexuality?
D. What is your race?
E. Who are you?
That is where Elyse's story differs. Pperhapsshe really does remember, pperhapsshe really doesn't care, perhaps she's just like you or me; a young writer who only wants to trigger questions in their audience's head. It is hard to say, as I have personally never met Elyse, but the impact of her childhood recollections certainly struck quite a note, and it's certainly true, and in Elyse's words, once "Race used to be something you ran".
If we could all remember what Elyse has, if we could recollect those forgotten scenes, then maybe, those things really wouldn't matter. Congratulations Elyse, congratulations for your outstanding work in this piece of literature.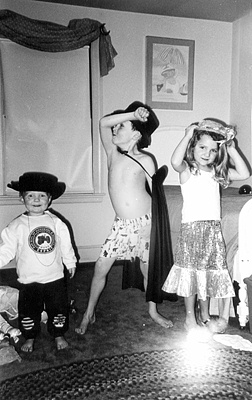 © Courtney M., Marblehead, MA