The Unattainable Rite of Passage
May 3, 2018
Prom, the night most who have experienced it will never forget. The high school dance and similar counterparts have become an integral part of American culture and teenage life. Yet in many cases across the United States prom is becoming inaccessible for many students. Less students are attending prom than ever before; only 47% of high school seniors reported made an appearance on this night in 2014. Although there is a decrease in prom attendance as some see it as too expensive, high school prom is an important part of the high school experience that can help students social and mental health while creating an unforgettable night and should be attended.
Throughout the years of its existence, prom has become synonymous with coming of age. Most people receive a night they can remember for the rest of their lives and allows them to feel finally like an adult. The senior prom signifies the end of high school, often more so than graduation. For adolescent high schoolers, making lasting memories is an important part of growing up and developing into productive adults. During the teenage years, memories tend to last longer, feel livider when recalling them, and impact people for the rest of their lives.
Through the research of Psychologist Steve Janssen of Australia's Flinders University, it has been shown that higher levels of dopamine released during the teenage years makes memories created during these years the most influential in development. The emotions felt in these memories can often be felt even many decades later. For most teenagers, prom and similar school dances offer a great opportunity for them to have fun and enjoy the waning moments of high school with their friends. Hence, prom should be attended by students because of its potential for positive contributions to memory.

Prom, while still holding significance in American culture, possibly more importantly, can actually improve students' social capabilities. Prom gives students a time to ask a girlfriend, boyfriend, friend, or crush to a dance. Although it may seem childish, this skill will likely be useful for their whole lives. When translating social skills into the business world, those who ask are adept at having charisma and convincing others why they are the best option have a higher chance of getting jobs. Obviously, young adults asking dates to prom additionally benefits attendees by giving them an opportunity to practice social skills in a real-life setting outside of the classroom. Dining etiquette, an important life skill that is essential for business dinners and luncheons throughout one's professional career, can also be learned through prom. Hence, prom offers an environment where young adults can learn necessary social skills that can benefit them for the rest of their lives.

Even with the ubiquity of the positive effects of prom, attendance has decreased in the past decade. The simple answer for the decrease in attendance? Money. The average cost of a prom dress: $100-400. The average price of a suit: $200. The average price of the prom ticket: $100. Between the costs of clothing, cosmetics, the ticket, flowers, and transportation, most American families spend over $500 on prom each year. With the gap between the richest Americans and the rest of society quickly widening, prom is becoming a distant and unattainable day for high school students.

Luckily, new solutions to the money crisis are beginning across the nation and are spreading like wildfire. These projects often run by fellow high school students, collect donations of gently used prom accessories such as dresses for young women and suits and shoes for young men. These programs and projects allow those in need to have the same great high school experience and build lasting memories from them. However, funding and support for these projects are limited. To raise support, social media should be used in order to advertise the cause as it would most likely be significantly more effect since most high schoolers use at least some form of social media. Instead of wearing dresses only once, high school students should donate or lend dresses to those in need. By doing this, the world can be rid of another injustice.

Students should be allowed to enjoy their special night. Their special night shouldn't be spent worrying about finding a dress or their financial situation. Instead, high school students must show compassion and comradery through donations. As high school students, we can raise awareness for those in need and make an unforgettable night, for both the student and the donor.
Moore, P. (2014, April 28). Most Americans didn't go to Prom.
Brice, M. (2012, July 20). Best Memories Tend to Come From Teen Years.
Ibid, 2012
Tucker, K. (2017, April 04). The Advantages of Junior & Senior Prom Night.
Ibid, 2017
Schatz, R. (2015, May 15). Crazy prom spending: Why the bubble may be ready to burst.
Ibid, 2015
Ibid, 2015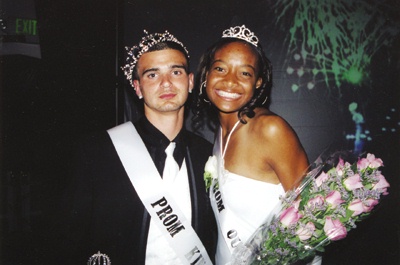 © Melinda M. Phoenix, AZ