Why dont they have bulimics annonymous?
November 13, 2008
I'm 15 and fat. Or so i thought. The mirror tells lies. To you maybe even. But to me it told me a huge lie. It told me i was huge and ugly and it basically told me to starve or die. And i listened.

It all started in about seventh grade when my parents started really fighting. But eighth grade when my mom kicked me and my little sister out to live with my grandparents is when i really got into it. You know i had always been told I was fat. Always. By my stepfather, by my sister, and by friends... but the mirror was who i listened to the most.

Days past and i wouldnt eat. or i would eat and throw it all up. Not caring that every time i threw up i was tearing my esophagus more and more each time. My hair began falling out and my strength began to weaken. Who was i? Who could this person in this mirror be? Was i really this fat cow that the mirror told me i was? Or was i the beautiful rose that everyone told me i had blossomed into? I wanted to find out.

So with the help of my grandparents i entered into a hospital that certainly did not specializze in eating disorders but who did help very much. The people there were so kind and gave me support and the help i needed.

I still struggle with my eating disorder everyday. This is no fairy tale ending im afraid. But i cam say that i always wondered out of all the therapy i have gotten i always wondered why there wasn't a bulimics annonymous.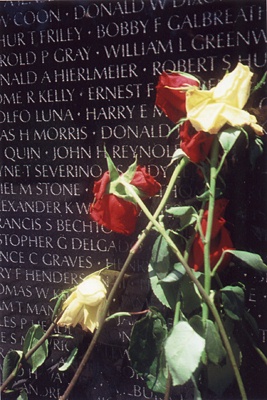 © Justin R., Angola, IN