The Trend of Food
March 28, 2017
Based on a survey administered to faculty at Natomas Charter School Performing & Fine Arts Academy reported that 59% were influenced by others when at the dining table. This not surprising in the light of Attacking the Obesity Epidemic by First Figuring Out Its Cause by Jane E. Brody claims that introducing healthier foods have shown that they will more likely to be eaten. For teenagers these days it's all about eating something fast and cheap, but another major key is "What can I put on my snapchat or instagram to show what I'm eating?"
Teenagers want to eat . For example, In N Out, can anyone go to In N Out and not snap a picture of their food? I don't think I count the countless times I've been to In N Out with friends and watch them document the food to put on their snapchat. It's a lifestyle, it's a trend. This goes for many other fast food places as well… Taco Bell, Chipotle, Starbucks and many others. Yes, all of these option our delicious, and are definitely all apart of my top 5 but are we eating them for the taste? Or the lifestyle that it comes with? My proposal plan is to start a movement.

A movement that will change the trend of eating foods, instead of posting pictures of that greasy traumatizing cheese burger you are indulging in, how about we make it a trend to post a picture of a bright colored salad. Just like eating unhealthy is a lifestyle, make being active, eating healthy a lifestyle, a lifestyle that only the most inclusive people can be and when I say inclusive I mean everybody. Because exclusive is a word that everybody wants to be apart of. I would turn to social media to make my movement affective. Social media would be the key to make this work, start by simply posting picture of healthy food instead of this awful unhealthy trend of capturing the unhealthy food that trends. I believe that this would be very effective since social media is where lots of trends spark a flame.

Works Cited
"9 Fast Food Trends for 2016." QSR Magazine. Web. 31 Jan. 2017.
"Trends of Fast Food Consumption among Adolescent and Young Adult Saudi Girls Living in
Riyadh." Trends of Fast Food Consumption among Adolescent and Young Adult Saudi Girls Living in
Riyadh | ALFaris | Food & Nutrition Research. N.p., n.d. Web. 31 Jan. 2017.
"12 Health Trends That Are Not Healthy."livestrong Leaf Group, 21 Aug. 2014. Web. 31
Jan. 2017.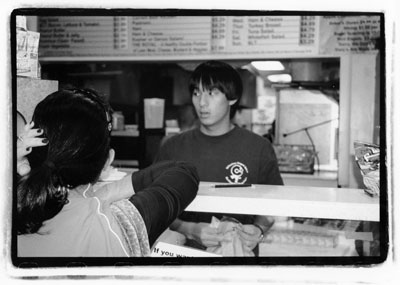 © Rachel D., Bethesda, MD