Zombie
MAG
March 25, 2009
I'll never forget those glassy mahogany eyes. How could I ­forget the hollow glare they pitched my way and the sight of their owner arising from a deathly slumber?

"Mom?" my sister called, breaking the stillness of the house. "Mom?" And my mom came running.

"What is it, Adrianna?" My sister didn't respond. "Are you awake?" Mom asked. At the time I thought it was a dumb question.

"I don't know," Adrianna answered. Mom instinctively knew the right questions to ask. My sister was sleepwalking.

Sleepwalking is fairly common in children; however, it also ­occurs in adults. But if sleepwalking is so common, why does the average person know so little about it?

Sleepwalking, also known as somnambulism, causes people to get up, walk, run, and even talk in the third and fourth stages of non-rapid eye movement (NREM) sleep. In NREM sleep, a person usually is not dreaming and has slow breathing and heart rate. People who sleepwalk are not aware of what is going on. They are not conscious and won't remember what they did while sleepwalking.

How can you tell if someone is sleepwalking? People are different, and so are sleepwalkers. Some quietly amble about, while ­others run in an attempt to "escape." Sleepwalkers are often slow to answer or don't respond at all.

Sleepwalking has many causes, ranging from genetics to environmental factors. If someone in your family sleepwalks, it's more likely that you will too. Stress, alcohol, and drugs are factors, along with a lack of sleep. Some psychiatric conditions, like post-traumatic stress disorder and multiple personality disorder, cause sleepwalking too.

It is a little unnerving knowing that my sister wanders the house in a subconscious state. Even though I've only witnessed it once, that image remains etched in my mind. I'll never forget her glassy mahogany eyes.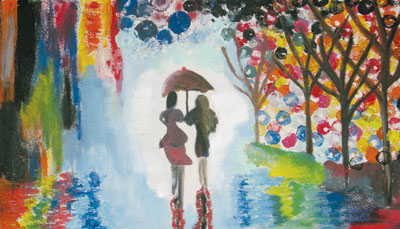 © Uzair M., Faisalabad, Pakistan