Support After Sexual Assault
MAG
May 9, 2014
She was driving to work, listening to the soft voices of her favorite country singers on the radio. She started to sing along. But then her voice abruptly stopped as the flashback began.
She was listening to this song, but she was in a truck with a man she didn't know. He was looming over her. Then, as the flashback continued, she was alone. Her shirt was wrinkled and her jeans were crooked. Tears were streaming down her face. She had just been raped.
• • •
Joanne didn't exactly have a normal life growing up. Her father had frequent outbursts of rage when things didn't go his way. He'd yell at his wife and daughters.
"It was scary," Joanne says. "It was him lashing out and not really knowing how to control his anger."
Throughout elementary and parts of middle school, Joanne was made fun of because of her weight. The bullying got so bad that she had to transfer schools in fifth grade. Things started to get better in middle school. She joined choir and became friends with a nice group of girls, but in the back of her mind, she was still self-conscious about how she looked.
This feeling followed her through high school. She wanted acceptance. She wanted someone to pay attention to her. She wanted someone to tell her she was beautiful. So she started working out. She lost some weight, and she felt prettier, but it wasn't enough to make her feel beautiful. She thought the only solution was to find somebody who would tell her what she wanted to hear. So even though she was only 17, she created an account on an online dating site.
"It was called Meet Me," Joanne says. "And you'd think that with the name of the site, I'd know that that was a red flag."
The site led her to a 30-year-old man. She thought he was good-looking, with a deep Southern accent. He had a tattoo on his arm and wore jeans and cowboy boots. Despite their age difference, he and Joanne talked online and over the phone for a while, then decided to meet and see a movie.
"He kept calling me beautiful, and he kept saying things that he knew I wanted to hear because I told him how self-conscious I was," Joanne says. "The worst thing I could've done was to tell him how I felt about myself."
When they met, as arranged, in the Kohl's parking lot, Joanne quickly realized that the date she had expected was not what he had planned. They didn't go to a movie or have dinner. They drove in his navy GMC pickup to an empty parking lot near the library instead. He started to get physical with her, playing with her hands and hugging her. Once he started to move his hands up her shirt, Joanne knew what was going to happen.
"He started touching me and I said, 'We shouldn't do that,' but he kept doing it," Joanne says. "I wanted to leave, but I didn't know what he would do."
Joanne was afraid that if she resisted, he would hurt her. She was scared that he would not only force her to have sex with him, but that he would leave her injured. But she tried to say something before it was too late.
"I told him, 'No, we're not doing that,'" Joanne says. "I got stern and he didn't like that. And that's when he pulled me over to the driver's side for me to be on top of him."
After forcing her to have sex, he dropped her off at her car and she never saw him again. Crying, Joanne called a friend and told her what had happened. She drove over to her house, but she realized she didn't want pity and felt like what had just happened was her fault.
"The more I thought about it, the more I was like, Oh my gosh, what did I just do?" Joanne says. "I just humiliated myself in front of him, and he knew it and he was probably laughing at me, getting what he wanted. So I played it off, like 'Oh, I just hooked up with a thirty-year-old guy.'"
Despite Joanne's act, her friends could tell something bad had happened. However once she told them she had been raped, she didn't get the reaction she expected. They told her she shouldn't have met up with a strange man and blamed her.
"It's not like I wanted attention," Joanne says. "But when they seem like they didn't care, you feel worse about yourself because you're like, 'Am I a target? Is this what happens to me? Is this what my life's going to be now?'"
Her friends made her feel like she deserved the rape. They called her "slut" and "whore" and told her that she was asking for it.
"For my best friends not to be there for me and to tell me it was my fault, I felt like I was in between a glass wall," Joanne says. "I'm like, 'I want you to be in my shoes. I want you to relive that night. I want you to be that person and then tell me how you feel.'"
Things didn't get better. She stopped enjoying things she had loved, like going to the gym and singing along to country music. And she hated it when people touched her.
"I felt so bad about myself and so worthless because of what happened and how he saw me," Joanne says. "He saw me as a vulnerable person that he could easily take advantage of, and that's exactly what I was."
She tried everything to feel better, but it got so bad that she punched walls and cried in her room for hours. Desperate for relief from those who blamed her, she felt like the only thing that would make her feel better was to meet up with more guys.
According to the Centers for Disease Control and Prevention, rape often lowers the victim's self-esteem and causes them to be more likely to engage in high-risk sexual behaviors. Because they were treated like an object, they sometimes feel like they deserve more of that treatment, as Joanne did.
"I knew after I would feel the same way, but I didn't care," Joanne says. "Now that I think about it, I wonder if that was my way of trying to cope with what happened without even realizing what I was doing."
Recently she realized that what she had been doing wasn't healthy. She knew that meeting up with guys and pretending that the rape was really just a hook-up was not what she wanted to do anymore. Something had to change.
"When I realized that, it was an out-of-the-blue moment," Joanne says. "I thought, I need to stop."
Joanne's friends still blamed her for the rape, but meeting up with the other guys made her feel worse. Though she didn't want to deal with pressing charges against the man, she didn't want to carry the burden of the blame by herself anymore, so she decided to tell her mom.
"I was scared and nervous … but we were really open," Joanne says. "I was glad I told her about everything, and now we are closer than ever."
Joanne also started talking to one of the few friends who did support her, and he really made a difference. Adam lives in the next state and has known Joanne for over a year.
"I was a little taken aback when she first told me," Adam says. "I wasn't disappointed in her, but I was worried that she was searching for love in the wrong places."
Once she told him about the assault, things started to get better. She was able to come to terms with what happened.
"He's always there for me," Joanne says. "Sometimes when I feel down I call him and he talks me through stuff. I think if I didn't have him to talk to – about that situation or anything – I don't know where I would be right now."
Today, Joanne pushes herself to make positive choices. She loves to sing in the choir, and she's continued to lose weight, but she does it to be healthy rather than to gain acceptance. She wants victims like her to know that they aren't at fault.
"You shouldn't blame yourself when you had no control over the other person," Joanne says. "They had control over you, but they don't have control over you anymore."
Joanne wants victims to know that they shouldn't stay silent. She advises them to talk to somebody they trust, or join a support group.
"You're not alone," she says.
Names have been changed to protect the identity of those involved.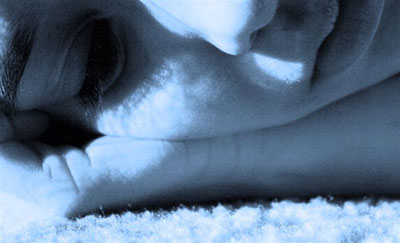 © Paula B., Katy, TX