The Truth About Self-Harm
March 21, 2014
Self-harm is when one intentionally inflicts pain amongst themselves. Young adults of this generation are more commonly depressed with the increasing drama. Children as young as eleven are now slicing their skin open with razors that may carry diseases. There are also those who pierce their skin with pins and needles. Some teens have eating disorders. And the mutual question often asked is, why? Why are these teenagers hurting themselves to this extent? The answer for that is that for them the physical pain is easier for them to feel than the mental/emotional. They often feel depressed, misunderstood, and most times they do not like their appearances.

These young adults do not realize the risks of self-harm. To begin with, these cuts teenagers make leave scars, scars that stay with them for a long time. By the way, anything used to cut could carry bacteria that could infect the wound. Additionally, bulimia, an eating disorder can cause your teeth to decay. And did you know that if you are anorexic and you begin to eat normally again, you are just going to gain all that weight back. The biggest risk had with eating disorders is that in the future if you have been diagnosed with one, you are ineligible to receive an organ donation.

If you self-harm you now know the risks. Try to seek help; don't be afraid to talk to somebody. Talk to your parents, or even your school counselor. There are even websites that tell you where you can go to receive help. If you know somebody or even think somebody self-harms, tell someone. Talk to them; let them know you are there to support them. Discuss the risks with them and convince them to get help.
Causing pain to yourself won't solve anything, it will only create more problems in the future. Never think you are alone, there is always somebody out there who knows what you are feeling. All in all, just remember we are all in this together, don't ever give up.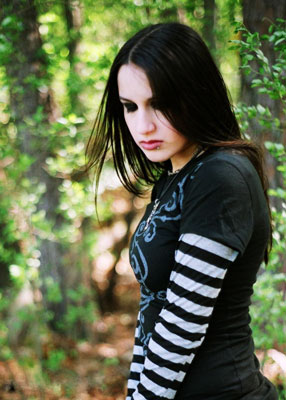 © Rebecca B., Marietta, GA